If what you want is to plan a day in Playa de Muro practicing different water sports with your friends; colleagues or family in a short time, we have what you are looking for. Among the numerous activities or excursions that we offer you at Water Sports Mallorca; there is a Multi-activity for groups, friends or families to experience several disciplines together. We explain hère vwhat it consists of.
NOTHING BETTER THAN AN INTENSE DAY OF WATER SPORTS WITH YOUR FAMILY AND FRIENDS.
There is no doubt that being in Mallorca and not enjoying its beaches and sea in all their splendour is a real shame. But it is also a shame not to make the most of its coasts by practising water sports with your family; your friends or your travel companions.
In order to offer you a different summer or simply a nautical activity, at Water Sports Mallorca we have created Multi-activitysessions for groups, Friends and family in which you can enjoy three different activities to choose from the six disciplines that we teach in our school during a session of 3 hours. As it were; you can have an hour's lesson in three different water sports: surfing, paddle surfing (SUP), windsurfing, kitesurfing, wingfoil or catamaran.
In this way, you will have a great and refreshing time in the company of your family; friends or acquaintances. What's even better, is that you can live an original and fascinating experience if you have never tried water sports before. You'll make the most of your contact with the sea or your day at the wonderful Playa de Muro.
If there is one thing our water sports school has; it is its strategic and ideal location for practicing any water sport. Playa de Muro and its surroundings offer the perfect conditions to practice them, depending on your level; at different times of the day.
At Water Sports Mallorca, we offer you all the conditions; equipment and our professional experience to enjoy the most popular water sports, all in a single day!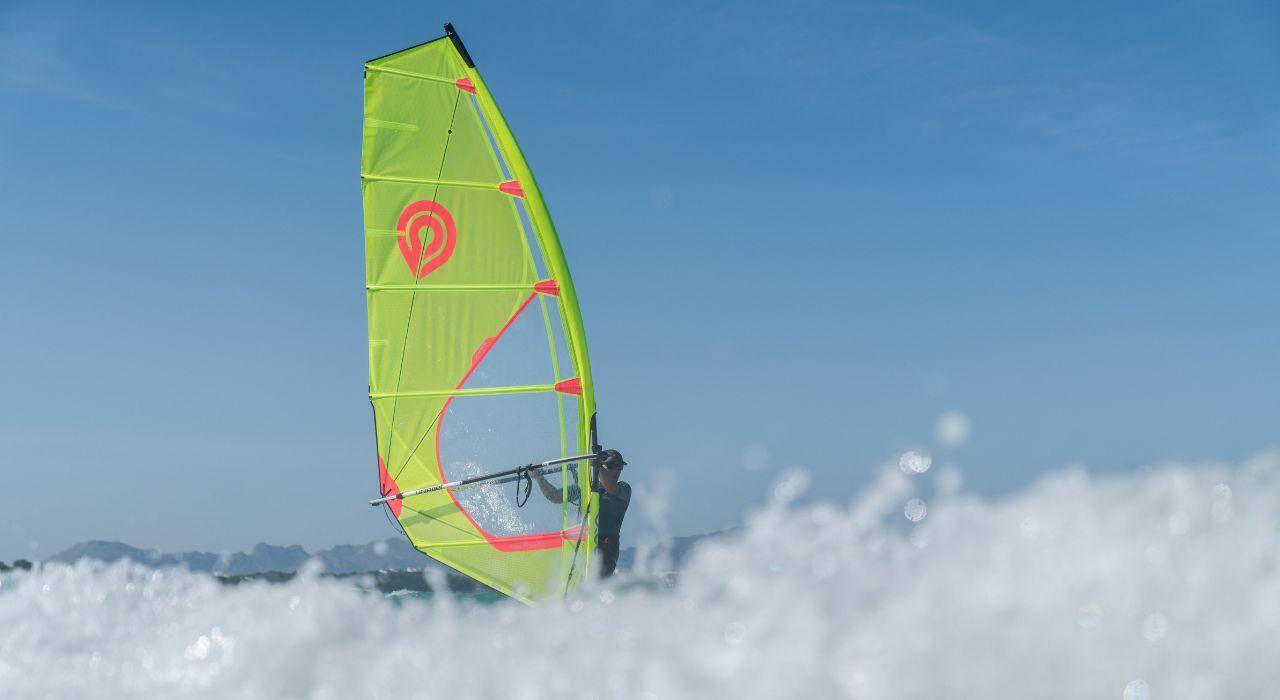 GROUP MULTI-ACTIVITY
: MUCH MORE THAN BOARD WATER SPORTS
Although it is true that most of the disciplines we teach are linked to surfing and other related modalities; at our school we also offer catamaran excursions in the vicinity of Alcudia Bay and numerous corners of our coasts. We also propose, relaxing exploratory walks while you paddle surf (SUP) along Playa de Muro.
As you can see, the alternatives we offer in a Multi-activity session for groups are very varied and interesting. From practising water sports such as surfing or SUP for an hour with our instructors; to gliding over the water with a board under your feet and a kite propelled by the wind: wingsurfing -or wingfoil- and kitesurfing; or mixing waves and wind with daring windsurfing.
But beyond gliding over the water and riding down the first waves; you can also enjoy a pleasant time on a catamaran trip. Or, if you prefer; a ride with a SUP board under your feet and a paddle to move serenely on the water. There is no better way to combine hiking and water sports than these activities!
WE ADAPT THE ACTIVITIES TO YOUR LEVEL OF EXPERIENCE
Our professional instructors will always focus their classes according to the previous experience level of the participants. Also, if there is a large group of people with different levels; we will rotate the activities so that no one is left on the ground.
If you don't have any experience in water sports with a board; we give you a short introductory lesson on how to stand up on a board or handle a sail or kite on the beach. This is an introductory class of just a few minutes, called dry training; where you are going to be instructed on aspects such as balance; strength and endurance and the essential manoeuvres. From there, in less time than you can imagine, you'll be out at sea; ready to practise what you've learnt on land.
We guarantee that you will be able to surf the first metres and perform the first manoeuvres on a surfboard suitable for each discipline; facing your first waves. You are going to feel your adrenaline rise and your senses expand to unsuspected limits!
Catamaran excursions or paddle surfing trips allow you to enjoy the natural environment of Alcudia Bay. Get to know its flora and fauna; discover beautiful spots and enjoy a calm and charming nautical experience at the same time. An ideal activity if you are a tourist or if you have never ventured into the most hidden corners of Playa de Muro and its surroundings.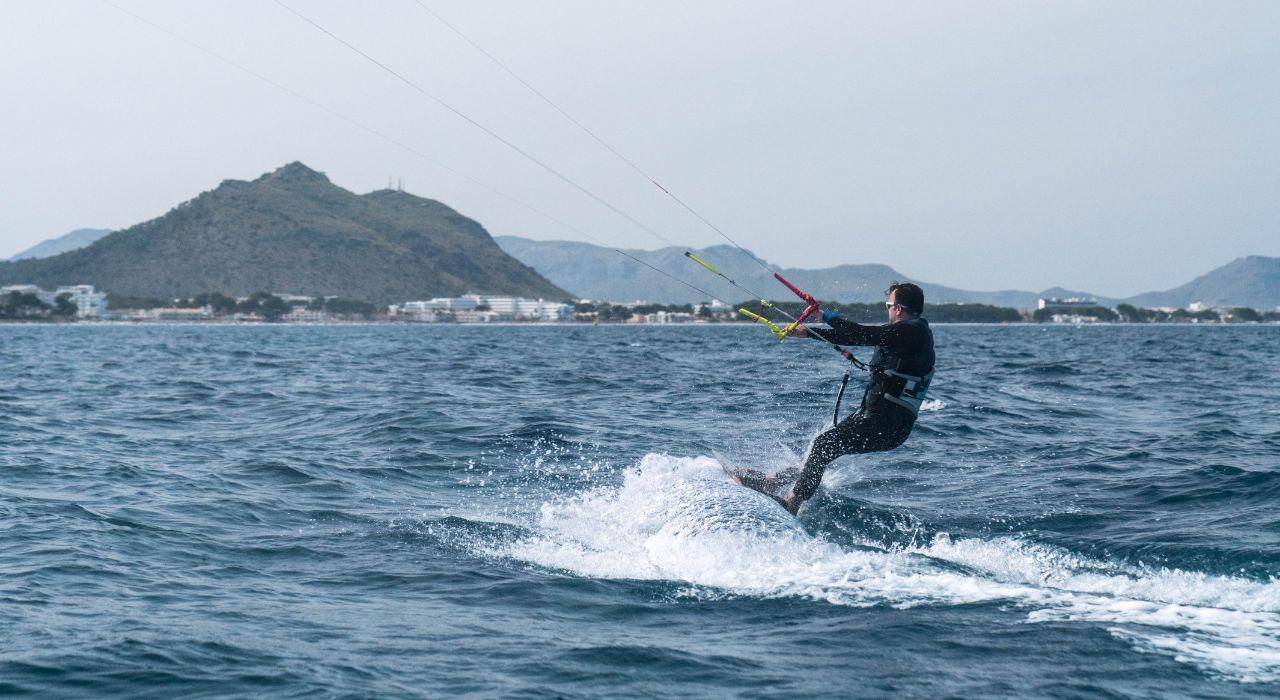 WE HAVE EVERYTHING YOU NEED TO ENJOY WATER SPORTS
In addition, at Water Sports Mallorca we have all the water sports equipment you need to practice any of these disciplines. State-of-the-art equipment from the best brands; which we are constantly renewing to guarantee safety and proper functioning.
Indeed, we have the full range of accessories such as wetsuits, harnesses and waistcoats adapted to the age and body build of each participant. As well as surfboards suitable for each discipline and level of experience.
Thus, you will have all the necessary equipment that best suits your comfort and safety. So that you can enjoy the water sports of the moment with total confidence.
You will also have the option of choosing between a morning or afternoon timetable for these group nautical multi-activities. Find more information on how to book on our website.
SIGN UP OR GIVE THIS MULTIPLE AQUATIC EXPERIENCE AS A GIFT TO YOUR GROUP!
Don't miss the chance to live a different and fabulous experience with your family, friends or colleagues. Go into our sea together in absolute safety and discover the exciting world of water sports. Or, why not; make a surprising and original gift of a multi-activity group session for your loved ones.
In our water sports school we make it easy for you and we will behappy to share time; sea and wind with all of you!
Visit our Excursions section on the website or contact us by whatsApp or phone; (+34 606 35 38 07) or send us an email to info@watersportsmallorca.com and make your reservation. You are just one click away from enjoying a three in one experience in the most popular water sports among sea lovers!
REFERENCES CONSULTED
Playa de Muro (n/d). This is Playa de Muro. Retrieved from https://bit.ly/3NXOO2X
Santander Smartbank (2021). The ten most fun water sports to do this summer. Retrieved from https://bit.ly/3c9BnQp