In our water sports school we teach you how to kitesurf safely and efficiently from scratch. So that you can enjoy 100% of this extreme sport as stimulating as it is enriching.
GET STARTED IN THE EXCITING WORLD OF KITESURFING
Spring is an ideal time to learn or resume the practice of any water sport in Mallorca. But it is especially an ideal time if you want to start kitesurfing and you have no experience. At Water Sports Mallorca (WSM) we teach you how to kitesurf from scratch and we will accompany you throughout your learning and training process until you become a real kitesurfer.
In April we are reopening our water sports school on the beach of Muro, Alcudia Bay, to make the most of the benefits that this season of the year brings to the Mallorcan beaches. And, although our instructors are experts in many types of water sports, they stand out mainly for their extensive experience in the practice of kitesurfing.
So, we guarantee that we will make your kitesurfing lessons an exciting, fun and relaxed experience. The fact is that sailing the sea with a kitesurf board and a kite moved by the force of the wind is not as simple as it seems… It is necessary to learn how to do it under the guidance of an expert in order to avoid major problems and a lot of frustration.
In fact, kitesurfing is an extreme sport in certain situations, and requires a certain amount of physical preparation to maintain balance and endurance. That is why it is so important to learn it from specialised professionals and to go little by little, so as not to get overwhelmed or give up at the first attempt.
The WSM team, with many years of experience as kite-surfers and instructors, will give you some tips on how to kitesurf during your first forays into kitesurfing. You will see how you overcome your own limits and become passionate about this fascinating sport!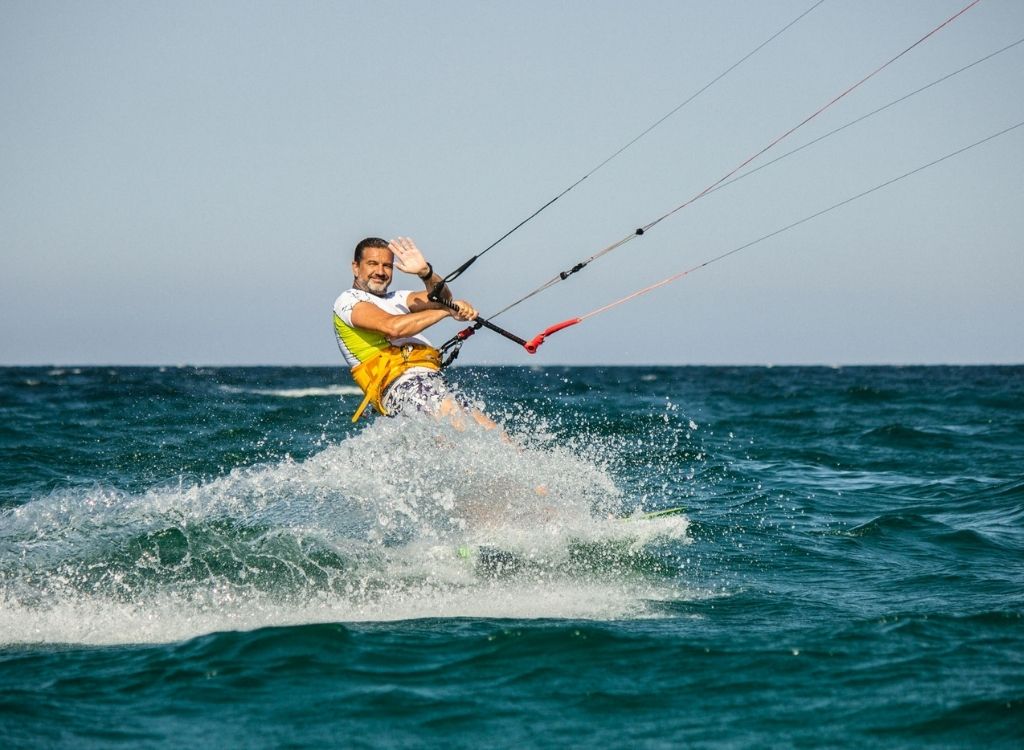 TOP TIPS ON HOW TO KITESURF EFFECTIVELY
As a first essential recommendation, we advise you to attend kitesurfing lessons with professional instructors. Because this is a risky sport, as we have said; it is not enough to have the right equipment and safety systems. You have to know how to use them properly and take courses to develop your physical and technical skills.
In this sense, the instructors will not only teach you tricks and lessons on how to kitesurf, but above all, they will look after your physical integrity and that of other people around you.
From there, you must be patient and confident that constant practice is the key to mastering a risky sport like this. Kitesurfing requires balance, simultaneous manoeuvres and knowledge of the wind conditions.
On the beach of Muro, we have the 'embat' wind, which is very pleasant for beginners in this sport. However, it is necessary to learn to assess the precise weather conditions to know if you have the sea and the wind direction in your favour. At WSM we will teach you how to do this with precision.
In addition, you must have good kitesurfing equipment, which we will provide you with at our school if you don't have it. We work with the best brands, as they guarantee safety and efficiency when practising this sport.
Our instructors will suggest you the best kite and kite-board for your body and your level. However, the equipment also consists of the kitesurfing bar, the harness, which connects you to the kite, the board leash, and in some cases, the life jacket and helmet.
The only requirement to get started in this fantastic sport is to know how to swim. But if this is not your case, please consult our instructors.
INTRODUCTION TO KITESURFING: THE FIRST STEPS YOU WILL TAKE
When you arrive at our exclusive kitesurfing practice area in Alcudia Bay, our instructor will teach you the 'water-start' position, to master it in both directions. We will also teach you to understand concepts such as the wind window and other concepts of great relevance.
The first step is to know the safety measures and to know how to put on and adjust the equipment properly. We will simulate the control of the kite and the safety systems with the control bar. We will also teach you how to react in case of an emergency and other safety techniques, such as the kite's quick release system.
The second step is to learn how to handle a small kite on the ground, both launching and landing. The idea is to feel the movement of the kite as if it were an extension of our body. In this way you will gradually learn to move the kite with ease, taking control of it. In addition, you will have to learn to keep the kite in neutral on each edge of the wind window, as well as to release it.
The third step is to learn how to control the kite in the water. This way, you will be able to relaunch it when you lose that control. Once you are able to control the kite, you will be ready to use the power it transmits; moving your body in the water with the so-called body drags and practising the water-start on the board.
The final step is to learn how to stand up and ride the board, while manoeuvring the bar and handling the kite properly. In this way, you will be able to sail continuously, while controlling your speed, even in headwinds.
A COUPLE OF OTHER TIPS TO KEEP IN MIND…
In fact, it could be said that the most important thing in kitesurfing is to maintain control of the kite. And this has to be combined simultaneously with balance and mastery of the kite-board under your feet.
But the truth is that a large part of the difficulty of kitesurfing lies in the fact that we are subject to sudden changes in the wind. That's why you have to learn to master your technique little by little and with determination.
In this sense, another fundamental step, which you will learn in the beginners' lessons, is to evaluate the weather conditions – wind and tides. As well as how to choose the right kitesurfing equipment, depending on these conditions, your body size and your skills.
Kitesurfing also involves more difficulties than other water sports. This is because knowing how to control the kite in all conditions, getting up on the board, sailing and making turns is no easy task, but not impossible either! It just takes time, and you need to be patient and not get overwhelmed or frustrated in the first few lessons.
Finally, as we mentioned in our previous article, accurate and consistent training will help you to progress faster. A good physical condition and endurance capacity will prevent possible injuries.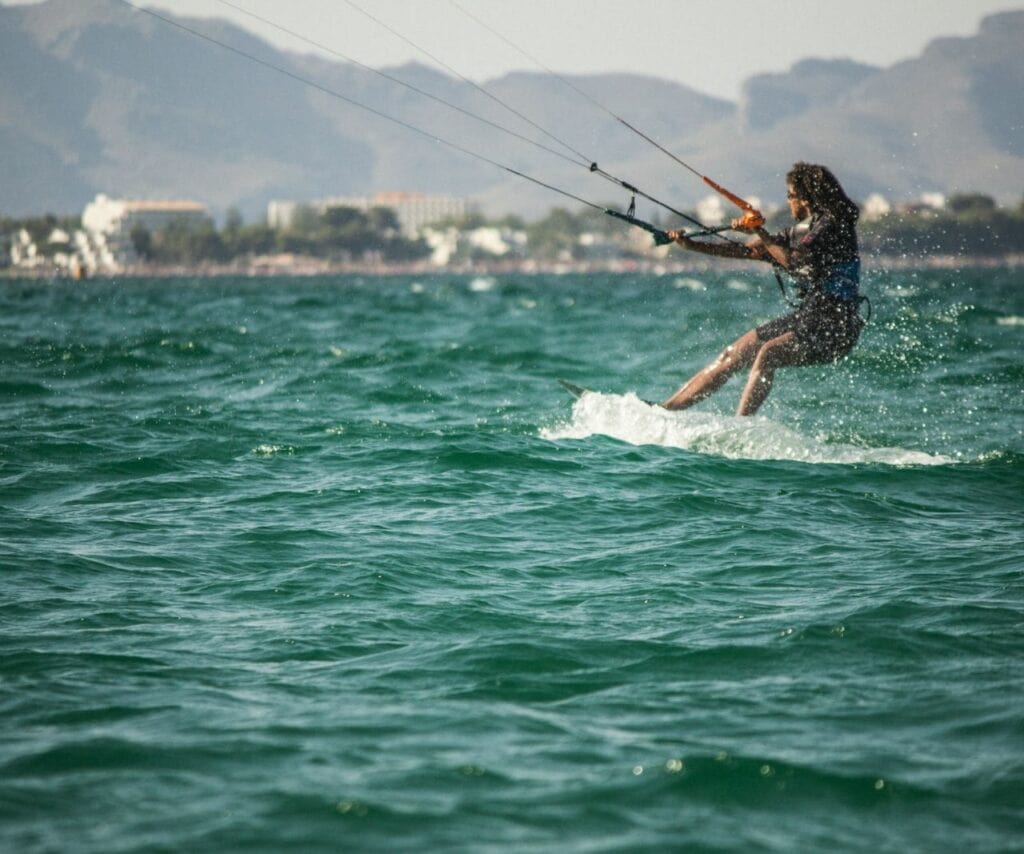 LEARN AND ENJOY KITESURFING IN OUR SCHOOL
The dynamism and possibilities offered by kitesurfing are unparalleled and we promise you will never get bored of practicing it. The sensation of gliding through the natural aquatic environment, flying high and with total freedom… It's simply indescribable!
But what we do guarantee is that you will be overwhelmed by a spectacular feeling of adrenaline and wellbeing… it is addictive!
Another advantage of this prodigious water sport is that it is suitable for both children and adults.
In our WSM school we offer different types of kitesurfing courses: individual or group; for children under 16 or adults; beginners or advanced; kitesurfing with foot-straps or strapless; in shallow water or, on the contrary, in deep water using an inflatable boat… In short, the variety is endless.
We are convinced that there is an ideal type of kitesurfing for everyone. So find yours with Water Sports Mallorca and treat yourself to the experience of feeling free in the open sea.
We will guide you in your first steps until you become a real kitesurfer. Because we will pass on all our knowledge and skills to you so that you know how to kitesurf successfully and excitingly.
So, if you are a beginner, at the end of the beginner's kitesurfing course, you will be able to make independent decisions and practise kitesurfing safely in all conditions.
Book now on our website and we will be happy to enjoy kitesurfing with you as your adventure partner!
REFERENCES CONSULTED
'Intermundial' (2021). How to learn kitesurfing: tips for beginners. Retrieved from https://bit.ly/3LEi0eB
Kite-Surf.org (n/d). How to kitesurf. Retrieved from https://bit.ly/3NNzKpO