Kitesurfing is an exciting and addictive wind and water sport, but it requires some exercise on and off the water. In this article we mention some practical tips for effective kitesurfing training to become a sensational kitesurfer.
THE BENEFITS AND REQUIREMENTS OF KITESURFING
Riding the waves on a board propelled by a kite, driven by the force of the wind, is the best sport for passionate and intrepid sportsmen and women. However, kitesurfing is a risky sport, which requires our bones and muscles to offer the best conditions when it comes to negotiating a furious swell. That's why it's so important to know a few facts about kitesurfing training.
Indeed, if we are thinking of choosing a sport that requires a high energy consumption; that tests our balance every minute or with which we use large doses of adrenaline, kitesurfing is undoubtedly the most suitable. And Water Sports Mallorca is the ideal place to practice it.
We provide you with everything you need to enjoy the practice from the first moment on the board because you have equipment and instructors who will teach you how to kitesurf. You will feel safe and you will love one of the most demanding sports.
BASIC NOTIONS FOR KITESURFING
Kitesurfing combines the sports of Surfing and Sailing. It requires winds of 12 to 18 knots. For this reason, kitesurfers must have a good knowledge of the weather conditions.
The first thing we need to put in place is proper training. Let's show you some key points.
First of all: we don't just kitesurf in the water, before that, we do our first kitesurfing training sessions on dry land, to get our muscles ready for kitesurfing. Remember that we must have essential skills in order to enjoy exciting moments on the water.
To begin with, we know that there are many muscles and joints that need to be at their best. Those that we keep most active during practice are the ones we will now mention: The scapulohumeral joint, posterior and dorsal deltoids, biceps, forearms; core abdominals, hips, pelvic muscles and leg muscles, which maintain a continuous degree of flexion. Finally, the feet receive the changes in pressure and stability.
What does a kitesurfer need to move the board? A great deal of strength, endurance, muscular coordination and, of course, balance. Only a lot of effort and training can lead us to acquire all of these skills.
Swimming, cycling, running or aerobic exercise can also be used to gain physical strength prior to kitesurfing. This would reduce changes of injury in the water.
However, with the help of our instructors, you will master this water sport in less time than you think.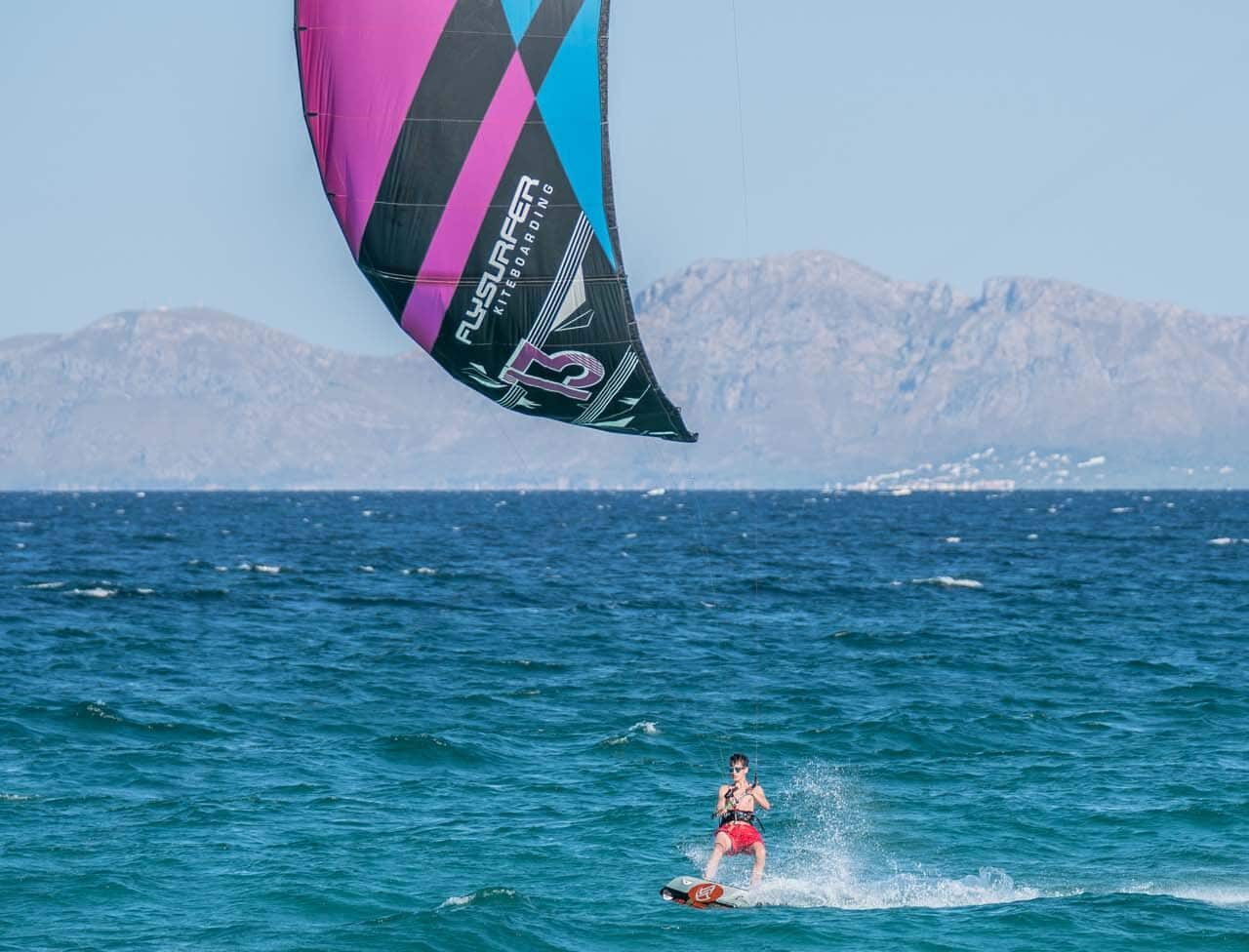 CHARACTERISTICS OF THE KITESURFER
The weight of the athlete is an important point to take into account when kitesurfing. Those who are lighter can, for example, kite in lighter winds. The same applies to the size of the kite. Thus a rider weighing 60 to 70 kg will carry a kite of 9 to 10 m; while if their weight is of 80 to 90 kg, the kite will be between 11 and 13 m.
In addition, kitesurfers must be familiar with the safety manoeuvres of their equipment, e.g. to get rid of the kite in case of emergency. It is advisable to wear a life jacket and head and eye protection.
WE START KITESURFING TRAINING
It is important that you start the first exercises from the ground. We will point them out step by step.
The first thing you need to do is to manoeuvre and control the sail. These movements are called Body Drag. Beginners start their training with a sail that is smaller than the one used on the water. Generally, we spend 4 hours learning how to handle the sail on land before going out to sea. Athletes try to steer the sail out of the water, but especially in the water to avoid damage.
Another essential aspect of kitesurfing is getting on the board, which is also practised on land. We start lying down to propel ourselves until we get into the surfing position.
To practise balance, you could make your own plank using a step platform and a medicine ball underneath. After a few seconds, you will notice the work on your quadriceps muscles.
We continue to put our body into action. To do this, we hang from a turnbuckle or TRX with support on an unstable surface. Subsequently, we flex and extend our arms, hips and spine. This activates the posterior area: core muscles, dorsal, biceps and forearms.
With one knee resting on the bosu (semicircular rubber accessory for balance training), try to keep your balance. Work both the supporting leg and the core muscles. With the bosu inverted, swing sideways, shifting your weight from one foot to the other while maintaining your balance. You will notice great progress.
On a roller" keep the position in semi-flexion. Try to do some of these exercises without shoes, because the soles of your feet have a multitude of sensory receptors that need to be stimulated.

KITESURFING TRAINING CONTINUES: STRENGTH, ELASTICITY, SPEED, CO-ORDINATION, ETC.
To work on strength, leg and trunk activities are required. It includes muscle development work, resistance series, maximum strength work by neural work (high load moved at maximum speed); isometrics (muscle contraction without movement); plyometrics (movement with prior joint extension).
With regard to the development of elasticity, flexibility or range of motion we have the possibility of using static, dynamic or combined methods (FNP).
Speed will be developed by doing all the physical and technical preparation movements at maximum speed. We must not lose more than 10% speed in each exercise. In the water it can be practiced by making manoeuvres as fast and aggressive as possible, trying to increase the number of turns.
Coordination is fundamental in kitesurfing, it is the basis for a good rider. At a specific level, coordination is worked on by increasing the manoeuvres of freestyle, surfing or racing technique, so it is essential to develop bilateral (try to do everything in all directions). You have to surf and practice manoeuvres constantly.
With regard to the frequency of training, it should be noted that 2 sessions of physical activity per week is for beginners, that 3-4 is for maintenance and that from 5 onwards it is for advanced levels.
HOW TO ACHIEVE EFFECTIVE KITESURFING TRAINING AT HOME?
Gisela Pulido is one of the Spanish kitesurfers who shows us the best techniques and routines for home. Follow these two steps and you will get an effective workout:
Four exercises for which you need a mat, TRX and elastic bands: squat jumps with elastic bands, alternating lunges with elastic bands, back curls with TRX, slow push ups.
We do 4 sets of this series with 1 minute rests between each exercise and 2 to 3 minutes between sets.
A single exercise: intervallic jumping jacks. The jumps will be performed in these phases which are repeated 6 times. Jump 20″, rest 10″; Jump 15″, rest 15″; Jump 10″, rest 20″.
COME AND ENJOY SOME UNFORGETTABLE KITESURFING SESSIONS
There is no doubt that kitesurfing is a demanding sport and not without risk. Proper training will make kitesurfing the discovery of an aquatic world under your feet. Practising it will stimulate our whole body and mind. So it's worth putting yourself to the test in the water.
At Water Sports Mallorca we have the best methods to make you enjoy kitesurfing immensely. On the 1st of April we will reopen our school, as we do every year, with the arrival of spring and good weather.
Without a doubt, the spring months are excellent to start taking the first steps and have the first kitesurfing training sessions. You will see how, after a few months, you will be flying over the waves of our beach in Muro!
REFERENCES CONSULTED