All the friends of Water Sports Mallorca who come to discover the wonders of Muro beach in Mallorca are captivated by the lush natural beauty of the surroundings. 
The beach is one of the main attractions. With its fine white sand and crystal clear waters. The coast is ideal for relaxing, sunbathing or enjoying the wide variety of water activities that the sea has to offer, as we have recently seen in the Zafiro Ironman Mallorca 2023. 
But the nature that surrounds us is not only limited to the beach. In the vicinity of Muro beach in Mallorca you will find s'Albufera, a reserve that was declared a Natural Park in 1988, as well as a Wetland of International Importance, a Special Protection Area for Birds and a Special Conservation Area. S'Albufera is home, either during the winter or occasionally, to birds such as herons, cranes, swallows and starlings, as well as a wealth of native flora and fauna. A perfect place to get lost while cycling or hiking. 
But we are not going to dwell on the natural wealth that is visible to the naked eye, but on another that we are more familiar with at Water Sports Mallorca. 
Marine life in Playa de Muro 
There are treasures on Muro beach in Mallorca that are not as visible as the ones we have just mentioned, but they are no less fascinating for being less obvious. Quite the contrary. 
The biodiversity of the waters of Playa de Muro is extremely rich. It is home to amazing marine species, from starfish to turtles, octopuses, lobsters, groupers and obladas. Let's find out more about some of them. 
Maidens
Maidens are narrow, elongated fish, usually up to a maximum of 20 cm, that are noted for their social nature and vivid colours, ranging from yellow, blue and orange to pink, green and purple. They are territorial, so it is not uncommon to find them in particular areas of coral reefs, whose balance they help to maintain by controlling algal populations. 
Obladas (saddled sea bream)
Obladas are similar in shape to maidens, but their small scales range from silver to gold. They are usually found swimming in shoals close to the shore and structures such as piers and jetties. They are diurnal, and only move to the bottom to forage for food, which consists of algae and small organisms, as they are omnivorous. 
Manta rays
The always spectacular manta rays can reach a considerable size, although the ones we find in the waters of Playa de Muro in Mallorca do not usually exceed 2 metres. They also find their food around the reefs, which they retain in their gill plates while filtering the water through their gills. Their importance to marine life is therefore not surprising. They are known for their graceful swimming and leaping out of the water, which makes them perfect for sighting without the need to dive. They are also peaceful animals, and unlike rays, they have no stingers, so they pose no threat to humans. 
Sea urchins and starfish
Both species belong to the echinoderm group, like sea cucumbers or hermit crabs, and can be of varied and flamboyant colours. Both also have a spiny body, although in the case of sea urchins it is spherical and has larger and more marked spines, and in the case of starfish it is generally made up of 5 arms, although it may have more. They differ in the way they feed, as sea urchins feed mostly on algae, as they are herbivores, and starfish feed mostly on crustaceans, molluscs, worms and other invertebrates. Both can be found on the rocks around Playa de Muro.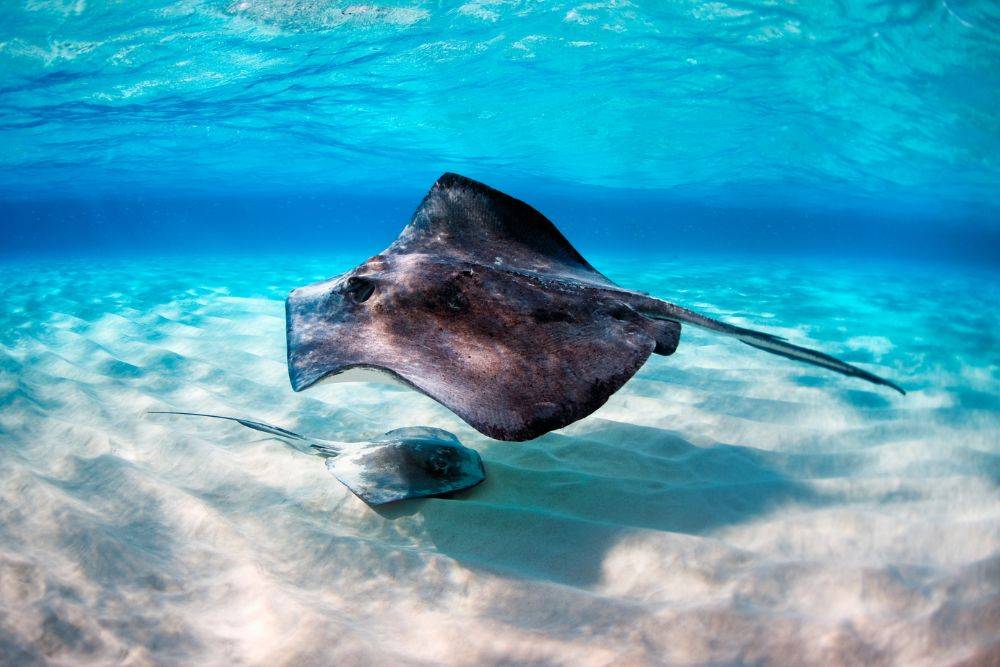 Sea turtles
We were not exaggerating when we spoke of the rich and varied natural wealth of this area, because as incredible as it may sound, on the beach of Muro it is also sometimes possible to spot these fascinating creatures, especially during the summer months. 
The most common species of sea turtles in Mallorca are two: the loggerhead and the green turtle. The loggerhead is the one most frequently found in our waters. It is large, up to 1.5 metres in size, and feeds on jellyfish and other invertebrates. The green, named after the colour of its subcutaneous fat, on the other hand, is herbivorous, feeding mainly on algae and other marine plants. Its size is similar to that of the loggerhead turtle, as it is around 1.5 metres long and weighs 135 kg on average. 
Posidonia
In addition to the marine fauna, the waters of Muro beach also hide real forests of Posidonia, a plant that also goes by the evocative name of Neptune grass and is vital for the marine ecosystem. It is a plant with thin elongated leaves that sprouts from an underground rhizome. The bright green colour of these leaves, which can reach up to a metre in length, is particularly beautiful seen from the surface of the water, especially when the sun's rays caress it. The importance of these underwater meadows lies in the fact that they provide shelter for numerous species, thus helping to maintain water quality by acting as natural filters. 
Water Sports Mallorca and the marine wealth of Muro beach
Faced with such underwater beauty, and with such crystal clear waters as those that bathe our coast, staying on the surface does not seem the best option. That's why at Water Sports Mallorca we offer the possibility of hiring organised excursions to observe all these animals, without disturbing them or interfering with their own habitat. These excursions can be SUP (Stand Up Paddleboarding), a perfect and minimally invasive choice to enjoy these and many other species, or the equally stealthy kayak. 
Whether you are looking for strong emotions or you prefer to dive into the most exuberant nature, at Water Sports Mallorca we have the perfect plan for you. 
References consulted