It is no news that sporting activities are essential for children to grow up healthy. But if this physical activity also combines wind, water and life in the open air, its virtues are multiplied many times over. In this article we will go into the great benefits of water sports for children and we will mention the courses that we teach in our school for the youngest members of the family.
Water sports to stimulate the healthy growth of young children
We all know that introducing children to sporting activities provides them with a very powerful all-round development. It allows them to develop their physical condition, their mental concentration, their emotional wellbeing and favours their social integration. But if, in addition, they practice water sports in the open air, in the middle of nature, their benefits increase even more; as they stimulate their senses in a spectacular way.
That's why a large part of the water sports classes that we teach at our Water Sports Mallorca school are dedicated to children under 16 years of age. Precisely because we see the many benefits that water sports provide them, and how much they enjoy learning to move like a fish in water.
On the contrary, these sports give wings to their imagination, their curiosity, their playful needs and their thirst for adventure; it provides them with a field in which to burn off their energy and keep in good physical shape, which will have an impact on their health. And above all, it inspires them with values such as discipline, perseverance, autonomy and self-confidence, as well as promoting teamwork, companionship and social contact.
Did you know that sports practice in children and adolescents favours the correct development of physiological systems and the strengthening of the musculoskeletal system? And did you also know that children who maintain regular physical activity are at less risk of acquiring unhealthy habits and conflictive behaviours? Well, yes! That is why it is so advisable for children to attend sports classes in summer that are of interest to them.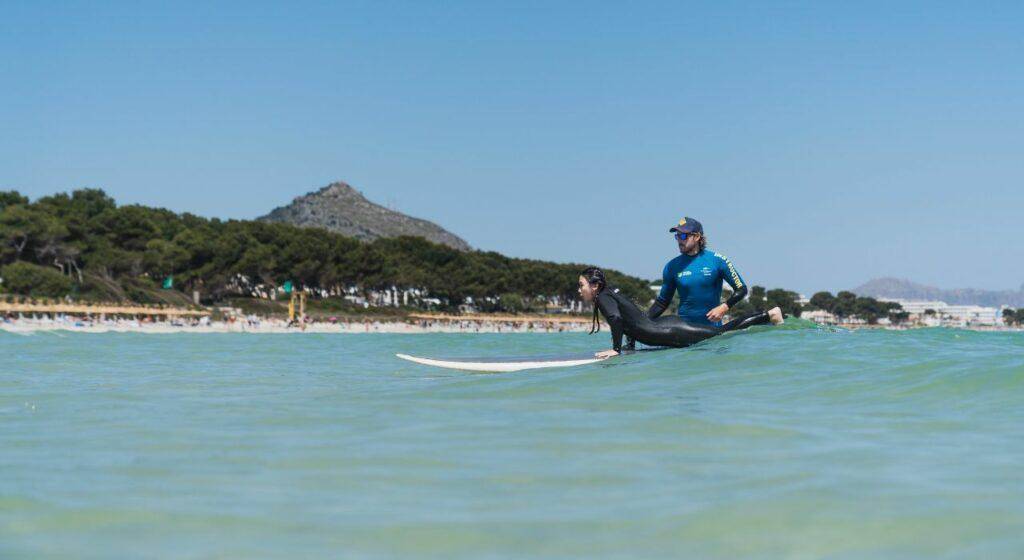 The richness of practising wind and water sports as a child
But what is so appealing about water sports lessons for children and teenagers? They allow them to experience a sporting habit and an adventurous activity.
There are few things more fascinating than water sports, where you glide over the water and are propelled by the wind. Where you are in direct contact with nature and have the feeling that you have mastered the waves; where you skilfully surf the sea, perform great pirouettes and cool off on the hottest days in the most fun way.
Feeling that you are an amphibious being, that you can be standing on the sand, jumping the waves or walking in the middle of the water, is the most powerful and amazing thing there is! That's why water sports are so addictive and generate so much excitement.
Not to mention that water sports awakes in children a greater respect and love for the natural environment. Indeed, it allows them to experience first-hand the spiritual richness that comes from being in contact with calm waters or the restless sea; with the sea breeze that revitalises our lungs; with the beauty of the seabed and the crystal-clear waters.
There is no doubt that any activity that is practised in the water is experienced as an exciting moment that merges us with the natural environment. And this always generates a greater environmental awareness.
In short, water sports allow children to grow and develop in a healthy way and in connection with the environment.
What are the most child-friendly water sports?
However, not all wind and water sports are appropriate to start practising at an early age. The type of training they require, the appropriate age at which they can be started and the physical condition of the child must be taken into account.
However, there are several water sports, whether water sports with sailing or water sports with boards, which are excellent for introducing children to the world of water sports. Here are some of the most recommended ones:
Swimming
This activity is essential for children to lose their fear of water and to be able to practise water sports more safely. Swimming also helps to strengthen the muscles – and thus avoid suffering a lot of pain, especially back pain – and to improve flexibility, coordination and physical endurance.
Paddle surf or SUP
One of the simplest and most recommended water sport for beginners is a sport with a board. It consists of gliding over the water propelled by a paddle or paddle-board, while standing on a special board for this discipline. SUP is a great physical exercise, although calm, and a very attractive way of navigating the sea.
Surf
It is undoubtedly one of the water sports most loved by the most restless children and teenagers. With this discipline they improve their balance, coordination and, in general, they learn to know their body better; at the same time they internalise many values such as self-confidence, discipline, capacity for effort and respect.
In addition, many surf camps are developed around this board sport, which gives an idea of the educational and inclusive content that this nautical discipline provides for children.
Windsurfing
Windsurfing is another aquatic modality that gets the little ones hooked because of the dose of adventure it offers. However, it is advisable that they first have some knowledge of surfing and have a good physical condition or stamina. With this sport, they not only have to keep their balance on a surfboard, but also handle the sail depending on the wind. The physical demands of this surfing discipline are therefore greater than those of SUP or surfing.
Kitesurfing
A wind and water sport that provides fun and adrenaline in equal parts. More than just gliding over the water, kitesurfing makes us fly over the waves. As with windsurfing, it is a discipline that requires a certain amount of aquatic training beforehand, because to practise this sport you have to learn to stand upright on a board while you perform fast manoeuvres with the kite.
Kayak
A very adventurous water sport, ideal for teams or families. With kayaking, children and teenagers improve their coordination and develop their spirit of companionship. In itself, kayaking is a boat similar to a canoe with a double paddle, or at each end, to move around. The interesting thing about this sport is that it can be practised in the sea as well as in rivers or lakes.
The importance of attending a water sports school for children
When it comes to any water sport, it is essential that children are accompanied by an expert instructor. This will ensure their protection and will teach them from the very beginning how to handle each discipline in complete safety.
In this sense, water sports schools such as ours provide children with all the necessary equipment according to their physical constitution, age and skill level. This includes everything from the equipment for each discipline – board, harness, sail, kite, etc. – to the regulatory protective measures such as the use of a life jacket or wetsuit. And good equipment is key both to safeguard the physical integrity of the child and to learn any discipline efficiently.
Moreover, it is desirable that children practice sports regularly and consistently throughout their growth in order to enjoy all their benefits. In other words, a few summer sessions are not enough. The greatest values and benefits of a sporting life are cultivated with time and perseverance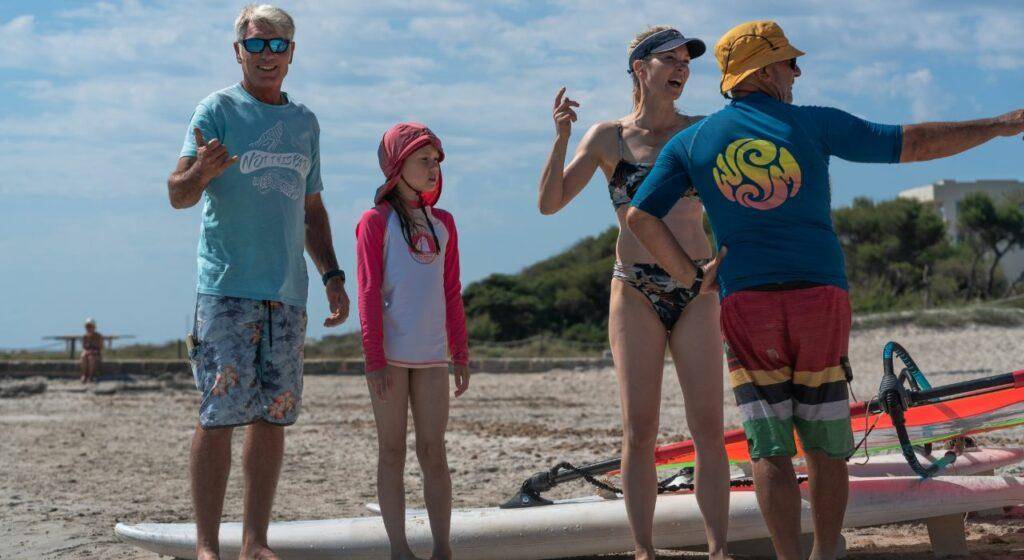 The water sports courses for children that we offer at Water Sports Mallorca
At Water Sports Mallorca we love working with children and teenagers because they are so lively and eager to learn, and in fact, their enthusiasm always brings us a lot and makes us grow as professionals and as people! Moreover, we know that if we teach them properly and with passion, we are planting in them the seed of a healthy and fun lifestyle.
At the present time, at our water sports school, we offer a wide range of water sports courses for children. These range from private lessons or group lessons to beginner or advanced classes, for very young children – from 6 to 12 years old – and for teenagers – between 12 and 16 years old.
Undoubtedly, we have a team of professional instructors specialised in water sports with extensive teaching experience. We have been teaching courses for children and teenagers for almost two decades.
We also have the advantage of being in the best possible location in Mallorca to adapt our courses to the needs of our students. Playa de Muro has a calm thermal wind during the early hours of the morning, which is ideal for beginners' courses. From midday onwards, the wind gets stronger and the swell increases, which provides the ideal setting for more advanced and intrepid lessons.
Playa de Muro is undoubtedly the perfect place for the little ones to get started in the sensational world of water sports. Its shallow waters and its sea with a light swell in the morning hours guarantee safety and fun.
These are our water sports courses for children
SURFING
For children from 6 years old, we offer very complete and safe surf lessons. They will learn how to warm up before each surfing session. They will learn to recognise the breakers, the strength and size of the waves, the best times to enter and exit the water, and the most important thing: to keep their balance while surfing the waves with style.
PADDLE SURF
For children between 8 and 16 years old, with this course they will learn how to sail, practise boards and turns. And, of course, to enjoy beautiful rides in the turquoise and crystalline waters of Alcudia Bay.
WINDSURF
Courses for children from 6 to 16 years old. They will learn how to get on the board and get into position to hoist the sail; make turns and manoeuvres, each one more amazing than the last. They will also acquire knowledge of basic nautical vocabulary and the parts of the material they are using; and they will learn the ideal wind and sea conditions for windsurfing safely and respecting the environment.
KITESURF
For children or teenagers under 16 years old and with a minimum weight of 35 kg, this course will fill them with pleasure and enthusiasm to feel that they are flying over the sea. In addition, they will learn to know the wind, spot and ideal practice area; also to master the kite and safety systems with the control bar, to assemble their equipment and choose the best kite size.
CATAMARAN
In 2-hour sessions, children aged between 12 and 16 can learn how to assemble and disassemble these boats. They will also learn how to carry out all the manoeuvres and courses to be able to sail independently and safely. Doing this course, they will experience the grace of sailing the sea with these light and comfortable boats.
Discover the wonderful world of water sports for children
In other words, at Water Sports Mallorca we have courses for beginners or initiation and improvement. We also have all types of equipment, from sails and kites to the latest generation of equipment and boards for all ages. You will find more information about these classes on our website, in the Kids section.
Don't hesitate to contact us! We will propose the best learning plan according to the age, weight and level of each child. We will also assess their needs and expectations in order to make effective progress in the exciting, fun, intense and healthy world of water and wind sports.
Don't miss the opportunity to enrol the youngest members of the family in such an enriching and positive activity as water sports for children. It will be a decision that, as adults, they will be infinitely grateful for.
References consulted
Belina (2021). The best water sports for children. Retrieved from https://bit.ly/3BisAEH
Mothers Today (n/d). What are the best water sports for children. Retrieved from https://bit.ly/3QlenfD
Ok Diario (2017). Water sports and children. Interesting facts. Retrieved from https://bit.ly/3cQMj6d
Sanitas (n/d). The practice of sport in childhood favours the growth and emotional health of children. Retrieved from https://bit.ly/3x9V0zd