Practising water sports activities brings much more than just the wellbeing of developing a hobby. Water sports are highly recommended for maintaining a healthy lifestyle, given their positive impact on our physical and mental health. In this article we will focus on the benefits of water sports, which, as you will see, are numerous.
Why water sports are so complete and recommendable
Mens sana in corpore sano. This is what the ancient Greeks used to say about the athletes who competed in the Olympic Games in honour of the gods. They were certainly not wrong.
Today we know that those who practice sport improve their physical and psychological conditions, which will help them to face everyday life with a more positive attitude. Experts guarantee the significant benefits of a few hours a week of sporting dedication.
But there is no doubt that water sports, apart from being very virtuous, have a special charm. Body vigour, muscle toning, improved blood circulation, stimulation of the libido, together with endorphin secretion, greater inner strength and much more. These are just some of the compelling reasons why we should get into the aquatic environment.
Because of our work as water sports instructors, we are very aware that body and mind gain a plus of stimulation with their practice. So much so that, once you start, you won't be able to stop diving into the water and try out the benefits of water sports! Don't think twice. Your body and mind will thank you for it.
Water Sports Mallorca offers you a wide variety of sports in which you will find yours. Visit us and you will find out for yourself.
the most popular water sports activities
As the name suggests, water sports are those that are practised in the water. However, there are three main groups:
Sports that take place in the water: water polo, synchronised swimming, swimming…
Sports that consist of gliding over the water: surfing, paddle surfing, windsurfing, sailing, water skiing, canoeing…
At last, sports that are practised underwater: free diving, scuba diving, snorkelling…
The aquatic environment in which we can practise these sports, taking into account each of the types, is the sea, the river, the swimming pool or a lake. We must choose the one that best suits our tastes, interests and physical condition
Of all the water sports mentioned, swimming is undoubtedly the sport par excellence. It is suitable for everyone and It is practised by children and adults, who will enjoy it while their physical and mental well-being increases. Swimming can be practised in the sea, river or swimming pool. It is a highly complete sport, as all the muscles are exercised. You will come out of the water with the feeling of having activated your whole body.
However, other water sports that we see on our beaches, such as surfing, wing foiling, kitesurfing and windsurfing, are activities that require the athlete to have certain physical and even mental qualities to put them into practice. They require a great deal of concentration and balance while mastering the board underfoot. They are, therefore, very complete sports, but they require certain skills to handle their equipment with grace.
The same is not true of SUP, another sport that requires less effort and is not as physically demanding. Paddle surfing is an evolution of surfing, but much calmer. Although it also consists of standing on a board, the board is different from the surfing board and provides much more stability. It is also accompanied by a paddle to move through the water. It is undoubtedly an ideal way to relax and escape on the sea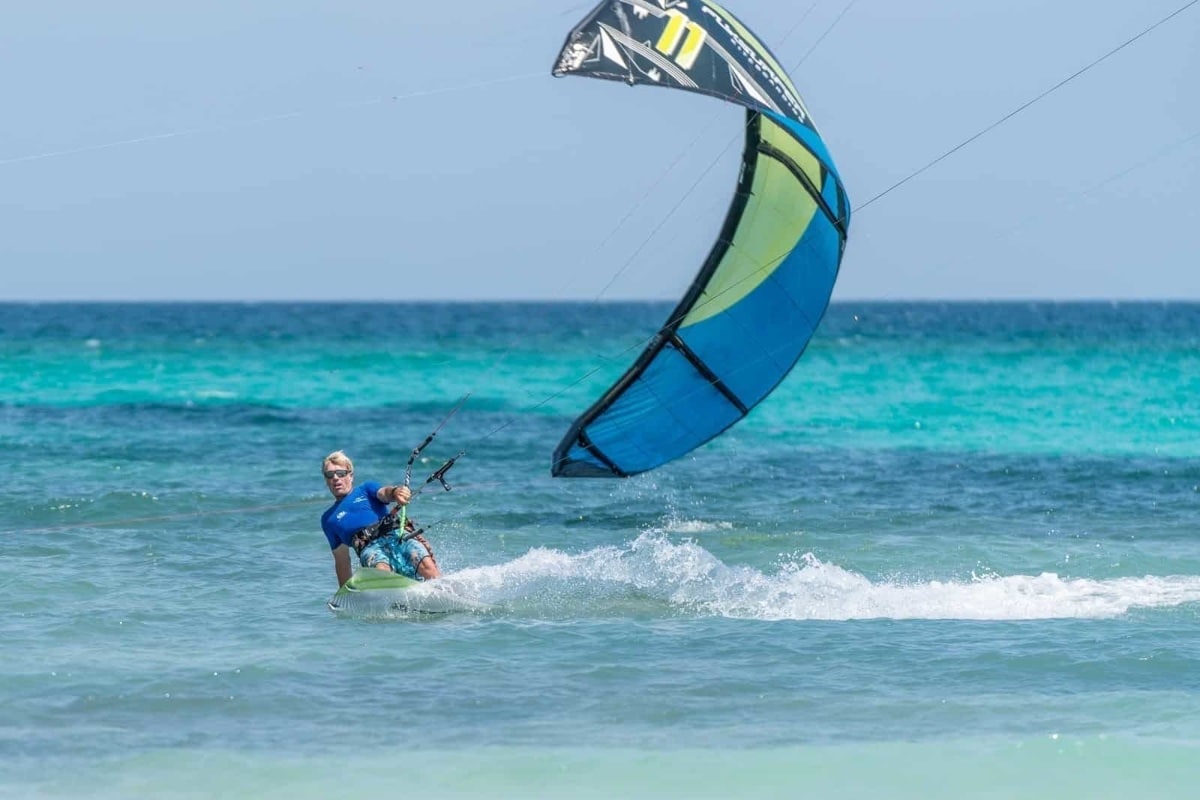 OTher water activities worth practising
In addition to the water sports already mentioned, we could add other water sports that are equally beneficial and exciting. We have chosen these as a small sample:
The more adventurous can enjoy kayaking and canoeing. In a canoe, sportsmen and women can strengthen their upper body and experience unforgettable sensations and moments on the waters of the beach or on the river in the middle of nature.
Similarly, those with a passion for scuba diving and snorkelling also have their space in the water. It is undoubtedly the ideal sport for improving lung capacity.
We cannot forget the gym sports that can now be enjoyed in the water. We are referring to aquagym and aquatic yoga. These are sports that combine the benefits of fitness and the aquatic environment. Yoga also helps to improve balance.
Of course, Water Sports Mallorca offers you a wide variety of water sports that you will love, either monitored or not. In addition, in our blog you will find specific articles about many of the sports mentioned here.
Water sports provide many physical benefits
Did you know that our body weight decreases between 80 and 90% in the aquatic environment? That's right, if we choose water sports, we will be rewarded in a big way.
The sensation of less weight helps to reduce possible injuries that may arise in practice. Any impact in the water is much less and our joints will not be damaged. This benefit is provided by any of the water sports we choose.
For this reason, practising an aquatic activity is truly recommendable. Here are the general physical advantages:
Exercise all or most of the muscles, due to the density of the sea water, especially in sports such as swimming. With paddle surfing, for example, we stimulate the buttocks, the quadriceps or the deltoids. Kayaking also exercises many muscles in the arms, back, lumbar, waist and legs.
Increased lung capacity and cardiorespiratory capacity. For many water sports, breathing coordination is required, as the lungs are used in a more controlled way. Some are surfing, swimming, diving.
Stimulation of blood circulation, so beneficial for our body.
Many water sports allow you to reposition the spine and achieve a more upright position. For example, swimming improves body posture and strengthens the lower back.
It helps the recovery process of some ailments, as water is a good element for rehabilitation. Of course, following medical guidelines, in this case.
In the water you can combine aerobic endurance exercises, in sports such as swimming, and anaerobic, strength exercises, such as windsurfing, for example.
Physical activities that take place in the water promote physical endurance, which is so necessary for the human body.
Caloric burning. Water offers resistance and it is necessary to use strength to fight against it. This leads to a significant calorie burn. Windsurfing, for example, can burn up to 1000 calories per hour. Thus, windsurfing helps to maintain a flat stomach, slim the figure and, in short, improves our appearance and physical condition.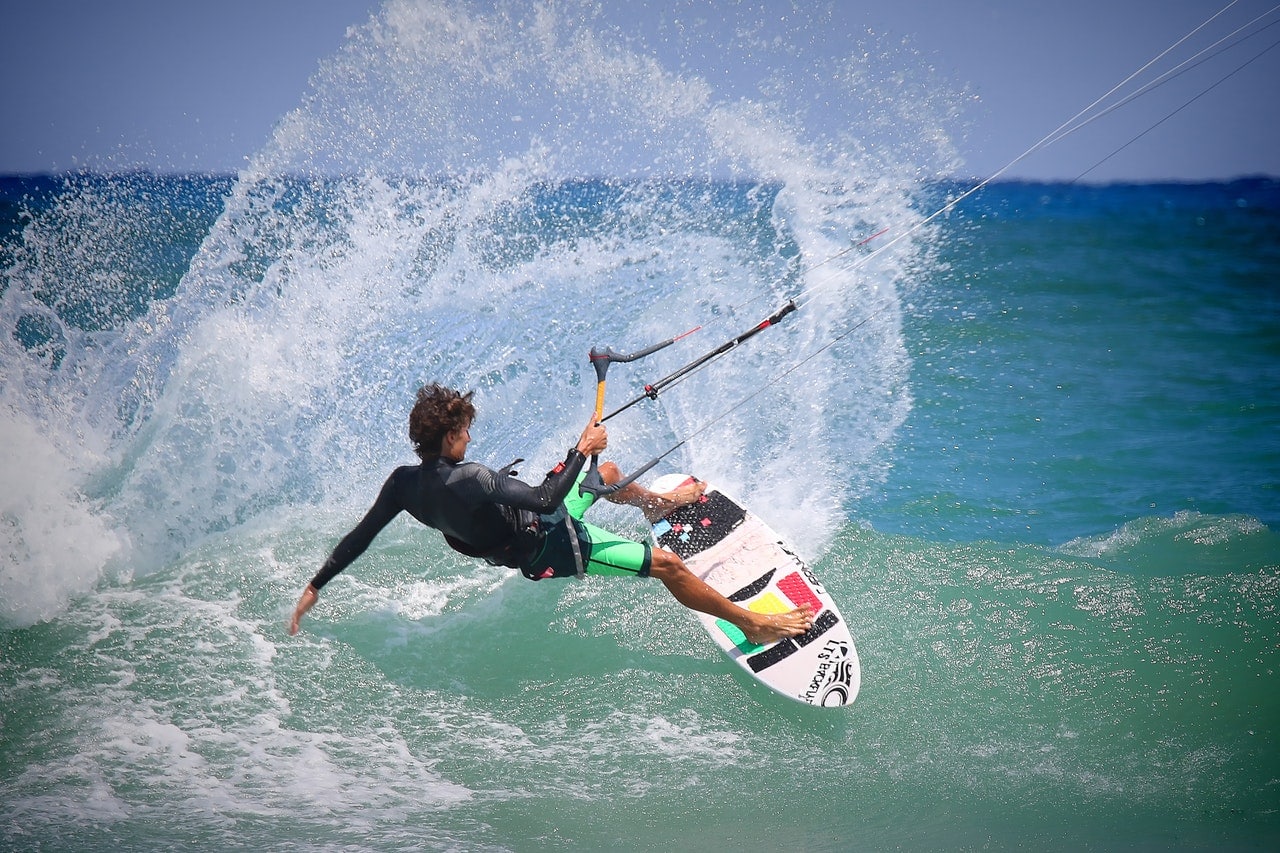 water sports also benefits the mind
Practising water sports is highly beneficial, as we have just seen, for our body. Equally, although not always taken into account, it is also beneficial for our psyche. Being in calm water while doing water sports activities is a therapeutic experience, as this environment is very pleasant to our eyes and makes us feel much better. If we add to this the sport that appeals to our senses, we have the perfect combination.
We will highlight the most outstanding benefits that we will enjoy on a mental level:
Any exercise we do in the water will become an excellent activator of good mood. It provides a playful sensation, full of vitality and positive energy. We are sure that it is the best option to consider in the treatment of stress, anxiety or depression.
In the case of surfing, windsurfing, canoeing, among others, more effort is required and fatigue will appear, but, being in the water, the fatigue is diluted in the sea to a great extent. Thanks to the freshness of the water and the possibility of floating, the sensation of effort is more pleasant.
Any water sport makes it easier to relax. It will make us feel very good and eager to enjoy as long as possible the pleasurable sensations that come to us. Swimming, kayaking or SUP are examples of this. Obviously, it will depend on the sport we practice.
WATER SPORTS ACTIVITIES: ARE THEIR BENEFITS THE SAME FOR MEN AND WOMEN?
According to Leonardo Viana, head of the Technical Methodological Unit of the Olympic Plan, training methodologies are, in general, the same for men and women. However, exceptionally, differential plans are applied due to the female hormonal system.
On the other hand, their psychological sensitivity is also different. A woman is more tolerant of pain and is therefore more predisposed to endurance work.
In swimming events, for example, the differences have been narrowing. Both sexes maintain the same competitive conditions, albeit in separate heats. Men and women have a similar cardiovascular endurance capacity.
However, as we know, men have greater capacity and muscle tone. This means that in water activities in which strength is involved, such as kitesurfing, water skiing, windsurfing, etc., they have better results, in the opinion of physical trainer Claudio Basualdo. To compensate for this, women offer better technical specificity and do well in aquatic sports such as swimming, synchronised swimming…
When it comes to aerobic training in the water, the effectiveness is identical for men and women.
We know that on a psychological level women and men enjoy water sports in the same way. Their mood improves in unison. More importantly, the cognitive capacity of both is stimulated by water sports. This is mainly due to the increased blood flow, as well as the demand for coordination of movements in some sports
OUR SCHOOL IS WAITING FOR YOU TO TEACH YOU TO ENJOY WATER SPORTS.
Water sports are highly recommended. Anyone who takes up an activity will be hooked from the very first moment and will be rewarded. Whatever the season; individually or in a group; outdoors or indoors, you will always find a sport of your interest that will make you vibrate in the water.
Water Sports Mallorca offers classes in a variety of water sports that will awaken your senses and align your body and mind – you won't find a greater source of wellbeing and enthusiasm!
In April we reopen our school, so make time in your diary to dedicate a few hours a week to water sports activities – you'll be infinitely grateful!
REFERENCIAS CONSULTADAS