What is paddle surfing?
Paddle surfingconsists of surfing the water standing up on a board and using a paddle to propel our movement. It is not necessary to have waves to practice it; moreover, it is usually done in calm aquatic environments. Being a light water sport -which does not imply great risks or efforts- it is very versatile. It can be practiced as a recreational activity, professional competition or as a secondary training method.
As a sports discipline, it emerged in the 1960s from Hawaiian surfers who settled on Waikiki Beach in Honolulu, Hawaii. However, it did not become popular until the end of the nineties; and in fact on the coasts of South America it is becoming known in the last decade. If you want to know more about the origin and history of this sport, we recommend that you visit our post about it, where we tell you much more.
A great part of its diffusion in the water sports universe is due to Hawaiian surfers like Dave Kalama or Laird Hamilton; who turned this surf training modality into a more sophisticated and challenging competitive sport.
The advantages of paddle surfing
As a water sport paddle surfing is extremely attractive; for those who only want to enjoy a ride on the water and relax while contemplating the surrounding landscape. Therefore, it is an ideal way to connect with nature -water, sun, sea breeze- and keep fit without great effort. And here lies one of its great advantages for the inexperienced beginner in this sport: there is no need to deal with the waves; nor is there any need for powerful physical resistance. This is why it is often said that SUP is a low-impact sport.
In fact, SUP can be practiced in lakes, rivers or shallow calm seas where the wind does notblow much. And here lies another of its greatest benefits to the public: its ease, which makes it accessible to users of any age; even for dogs, since there is the SUP Dog method!; and it doesn't demand great physical conditions.
Also, paddle surfing is one of those aquatic exercises that can be done at any time of the year: either in the summer season, or in the middle of winter.
However, paddle surf is a complete sport, where adventure, leisure and physical activity are combined, which undoubtedly increases our levels of serotonin, endorphin and dopamine. These chemical substances that our brain generates and make us feel good, satisfied, happy and relaxed.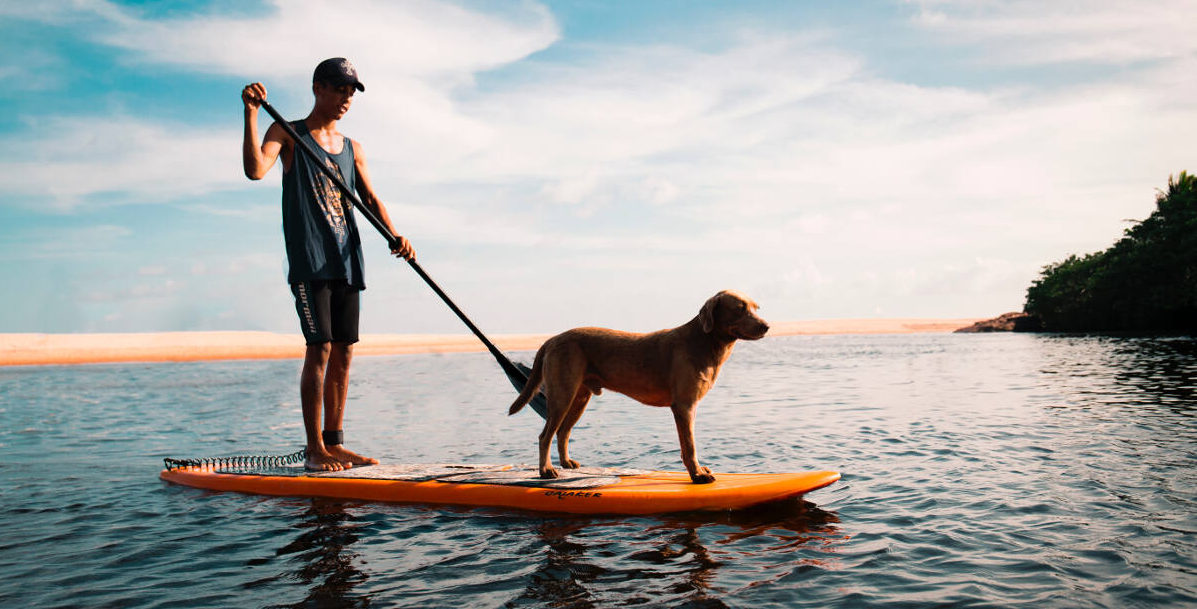 EQUIPMENT NEEDED TO PRACTICE PADDLE SURFING
It is necessary to use a specific paddle surf board -which, unlike the surf board, is wider and heavier, and gives more stability-. This board has a strap or leash which keeps it tied to the ankle; so as not to lose the board in the middle of the water and not to run the risk of drowning. And, of course, a carbon fibre SUP paddle.
As for the types of SUP boards, at present, there is a varied range of them. The biggest differences are in size, volume and curvature. The diversity of models is emerging as adaptations that are suited to the type of paddle surfing sub-speciality being practiced. Thus, there are many types; SUP race -for competitions-; river, yoga -for fitness, pilates or yoga-, touring -for long trips- and all-round -ideal for practicing any type of SUP at user level.
In addition, the boards can be rigid and inflatable. Although the most common is to use a rigid board, made of epoxy, polyester or carbon fibre glass; inflatables can also be a good choice, given their ease of transport and durability.
Finally, it is necessary to have certain safety equipment. Basically, a life jacket, neoprene suit for cold water areas, some kind of cap to avoid sunstroke,… And don't forget to use some sunscreen to protect your skin from unwanted burns.
And so, one learns to get up on the board, master its course and be able to execute turns, which is no small feat!
Your First lesson. Learning what is paddle surfing
Like every discipline that is practiced out at sea; it is convenient to take some previous classes with a specialised instructor; that will show you what is paddle surfing, how to carry out the essential movements. We mean, standing up, staying up on the board, maintaining the course we want, knowing how to row so that the board turns, etc.
In a first SUP class, the instructor teaches how to correctly handle the board on land, either on the river bank or on the sand. Thus, he will explain which is the right point to kneel down -which is in the center of the longboard-; and simultaneously, how to grab the oar -through the top-, in order to propel oneself with it when standing up on the board.
Likewise, before getting into the water, the instructor will also teach what is paddle surfing; how to rest the board in the water, which must be in a certain depth area so that the keel does not touch the bottom
It is important to learn how to kneel on the board and move your arms to start rowing. The direction of the board depends on the position of the arms and the handling of the paddle. Once you have mastered this part, you can then stand firmly on the board and rest first one foot and then the other. And we start to practice paddle surf, properly.
Afterwards, we must know how to move on the longboard to undertake the turns. This requires a series of precise movements, such as taking a few steps backwards on the board so that the bow is lifted; at the same time, a lateral sweep is made with the paddle so that the board turns.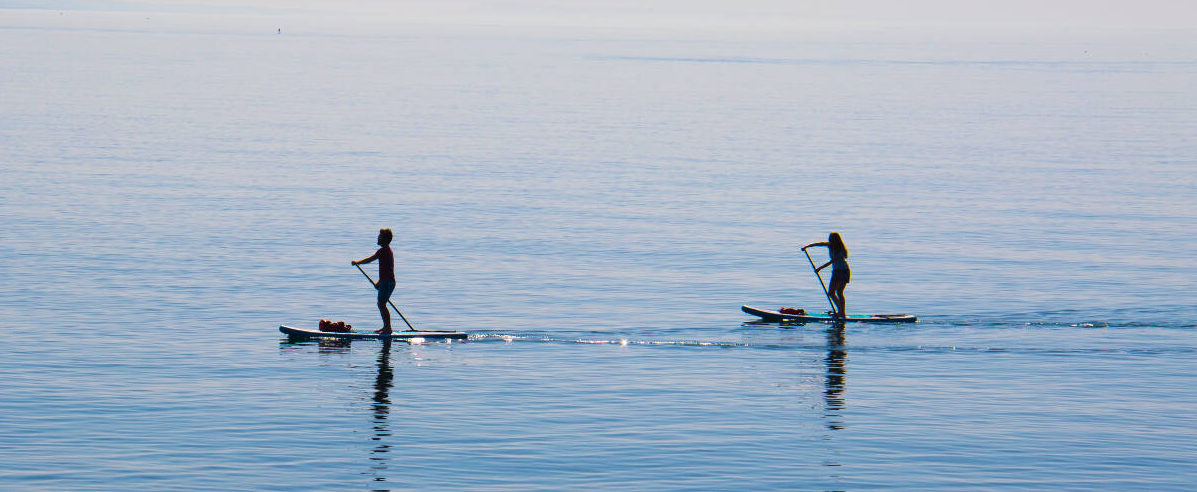 Mastering balance and dexterity in the water
Usually, from the first class one can go into the aquatic environment to put into practice everything learned on solid ground. Depending on previous level of experience, one can progress slower or faster.
Let's be honest: paddle surf is not very difficult; but that does not mean that it is exempt from certain body control, to which our body may not be accustomed. Starting with the fact that, if one lacks experience in water activities, the feet can suffer pain and the body can feel tense. This is because the nervous system is blocked when feeling on unfamiliar ground.
Maintaining your balance on the water's surface requires a certain amount of stability and physical stamina; but it is a habit that comes with practice, like everything else in this life! The key is to try to stay as relaxed as possible while standing and paddling, and looking at the horizon.
In the end, the class is much simpler than it seems, or at least entertaining and a lot of fun. From there, you will discover the excitement of 'walking' on the sea.
Bibliographic references
Alías García, A. (2017). Manual de técnica y didáctica del paddle board. recovered fromhttps://books.google.es/books?hl=es&lr=&id=q-VIDwAAQBAJ&oi=fnd&pg=PA2&dq=paddle+surf&ots=HEfGIj-owo&sig=zpLDWM7Vy63BBVQRVCM-kW8KmEw#v=onepage&q=paddle%20surf&f=false
Clarín (2017). El stand up paddle es la tendencia del verano en el mar y ya está a la par del surf. recovered from https://www.clarin.com/sociedad/stand-up-paddle-tendencia-verano-mar-est-par-surf_0_r1rT7knBg.html
Go Paddle Surf (s/f). ¿Qué es el paddle surf? recovered from https://www.gopaddlesurf.com/que-es-paddle-surf/