Sailing along the coast of our island, appreciating its coves and beaches from a nautical perspective, is a fabulous adventure. It is another way of getting to know Mallorca, pushed by the wind and with the sea as the surface that balances us. For lovers of water sports and dynamic recreational activities, a catamaran trip around Mallorca is priceless.
A glimpse of Mallorca from the dolphins' perspective
One of the nautical attractions we offer at our school is to get on board a sailing catamaran to sail our sea. A unique experience that enthrals both travellers and adventurers, as well as water sports enthusiasts.  And although at Water Sports Mallorca we stand out for teaching how to sail a beach catamaran, today we want to dive into the possibilities offered by a catamaran excursion around Mallorca.
Indeed, Mallorca is an explosion of natural charm. A place that captivates and seduces with its geography and spectacular coastline. That Mediterranean atmosphere, those calm winds that cool but do not hinder; those sands worthy of becoming the best place to stay. Its crystalline waters that sparkle with life in their depths and magnetise us with their impressive chromaticism, from turquoise to transparent. And, of course, its beaches and hidden coves, its magnificent cliffs and enigmatic caves, make up a dream coastline that treasures thousands of surprises.
To enjoy all the magic of the Mediterranean's most beloved island, sailing along the coast aboard a boat is the best option. But if the boat is also a sailing catamaran, so light, comfortable and fast, the exhilarating sensations are multiplied.
That is why since 2002, we have been offering various services and activities with catamarans as the main protagonist. Lessons at different levels and for all ages, equipment and catamaran hire and excursions for individuals or groups with skipper included.
Certainly, every year the phenomenon of catamaran trips around Mallorca becomes more and more interesting. Because the experience, halfway between travelling and sporting, allows us to get to know a different Mallorca. An unusual Mallorca that is impossible to guess with our feet on the ground.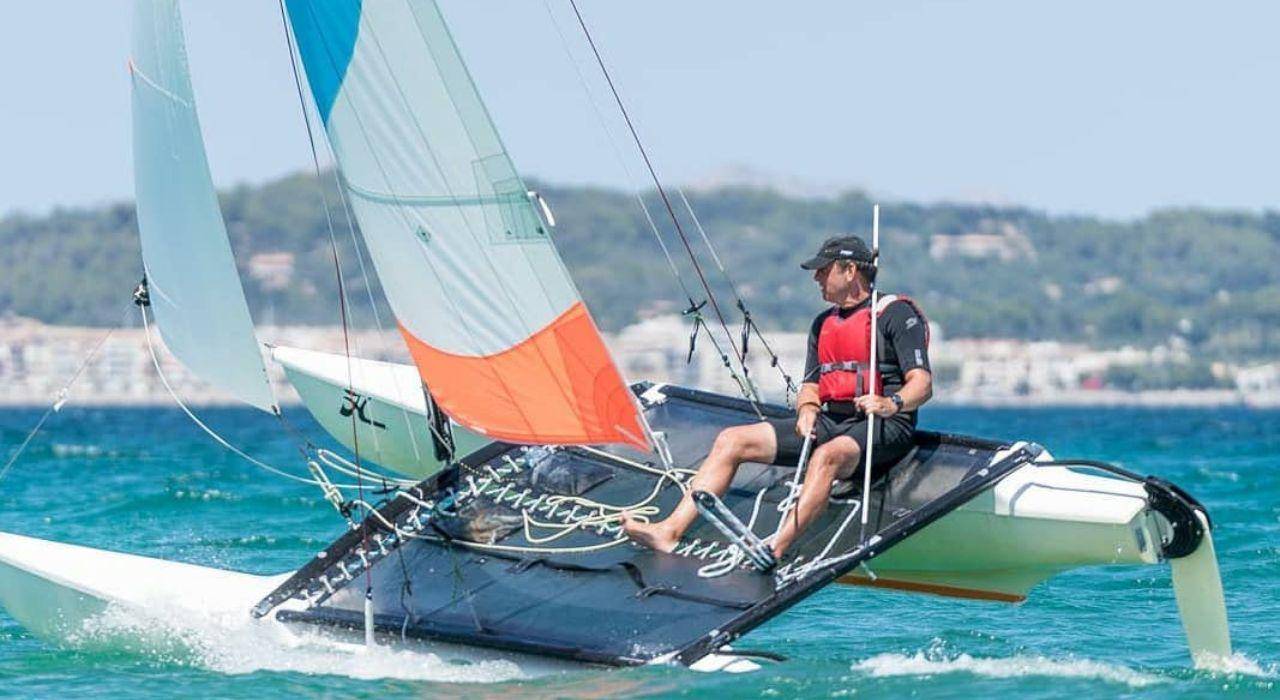 Catamaran excursion around Mallorca: an unforgettable sensory explosion
Seriously. There are few things as satisfying and comforting as seeing the sunrise or sunset tinged with orange or golden colours over the profile of Mallorca. And you, being able to admire it from Neptune's kingdom, in the middle of the sea; with the smell and taste of saltpetre revitalising your senses.
Then, an indescribable halo of serenity and mysticism envelops you. A personal experience full of meaning that will turn an ordinary day into an extraordinary day. Sailing along the north coast of Mallorca, from Alcúdia Bay, in the direction of Pollensa Bay or towards the bay of Palma or the south of Mallorca, fills you with happiness.
The best panoramic views of the north of the island, which is where our school is located, can be enjoyed from a catamaran. But the good thing about this nautical activity is that this boat trip gives you the option of many other activities. From diving into the crystal clear waters, practising the man overboard technique, to landing on any beach. Or you can admire the beautiful reefs that line the coast or simply enjoy the adventure of driving a catamaran.
Also, as we have said, in this type of excursion you can share space with other people. So it's a wonderful activity to do with your family or your tribe of friends. And you can lead them yourself, and simply rent the catamaran from us, or have one of our expert skipper and chauffeur on board.
However, believe us, even if you think of a catamaran trip in Mallorca as a mere boat trip, you will want to learn more about this discipline and become the next captain of your next trip. Indeed, catamaran sailing is fascinating and easy to do!
Alcúdia Bay uncovered for you
The catamaran excursion around Mallorca that we offer you at Water Sports Mallorca consists mainly of a trip around the Bay of Alcúdia, starting from Playa de Muro. This is a trip that will steal your heart and is ideal for groups of 4 or 5 people. Especially if you are a family with children.
In addition, we have the immense fortune of having thermal winds such as the 'embat' that allow the catamaran, given its lightness, to acquire great speed.  Although if you are looking for a leisurely catamaran excursion, the early or late hours of the day will be the most suitable.
Our professional instructors will be able to suggest the most captivating corners of our surroundings that are worth seeing from the sea. However, we are open to the trip of your choice, the one that most appeals to you.
What are the great places to visit that you can (re)discover from a marine perspective?
Puerto de Alcúdia with its dock, its fishing dock, its marina and its maritime station for passengers.
The south beach of Aucanada Island and its splendid lighthouse, which can be reached on foot in a few metres.
A glimpse of the S'Albufera Natural Park with its forest and protected dune system. You will get a spectacular panoramic view and you will be able to share space with the marine fauna and flora that make up the wild ecosystem of the park. An habitat that you will be able to observe easily thanks to the translucent nature of the surrounding waters.
Sightseeing one of the virgin spaces that still exist in Mallorca: the beach of Es comù. A paradise for lovers of natural spaces with coastline.
Walk along the coastline of the beautiful villages of Son Serra de Marina and Colonia Sant Pere.
And a glimpse of a whole myriad of hidden coves and beaches of exceptional beauty and scenic uniqueness. In fact, some of them are only accessible by sea.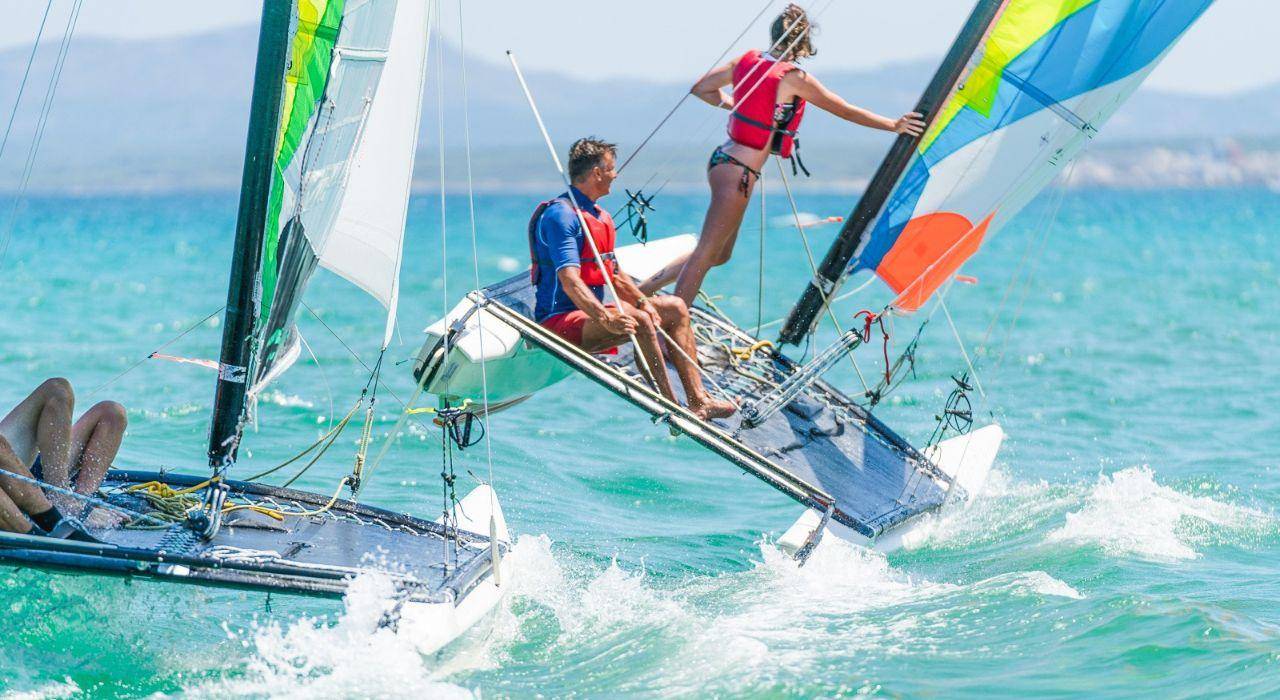 A catamaran trip around Mallorca is the most genuine way to get to know the beautiful island.
With this itinerary, or a similar one that you propose, you will enjoy a different kind of day. It can be as fun or as relaxing as you like. But in any case, it will be exciting and memorable.
Don't end this summer without taking a catamaran trip. At the very least, it will be the perfect end to your holiday. But we know that if you try it once, you'll want to repeat the experience until it becomes your summer hobby par excellence.
Consult our team of instructors, who will design and organise your desired excursion, depending on the number of passengers and the destination to be reached. Discover and enjoy the fascinating sensation of sailing, propelled only by the wind! And with the total safety offered by our professional skippers.
Give yourself the gift of exploring new horizons and enhancing your leisure time with original activities. Give yourself the gift of investing in time that expands your sensations and your mind, that provides you with new experiences and curiosities. And where you have the chance to turn seemingly insignificant and quiet moments into an unforgettable experience.
There is no doubt that boat trips in Mallorca have the potential to change your perception of the world around you. And learn that there are many perspectives from which to look at the world, and each one of them offers you a new world.
References consulted
Citizen B (2017). Mallorca, the beautiful island. Retrieved from https://bit.ly/3OYV0bB
Esaín, G. (2017). Alcúdia, the great bay of Mallorca. Retrieved from https://bit.ly/3PXoasX
Ports de Balears (undated). Alcúdia. Retrieved from https://bit.ly/3Q3mfmp