Gisela Pulido has stolen the hearts and admiration of all water sports lovers. Her personality, her charisma, her perseverance and the acrobatics she performs in the air and on the water have won us all over. And what is even more important: she shows that determination moves oceans and crosses winds. Let's get to know the ten-time world kitesurfing champion a little better.
GISELA PULIDO: BORN TO TRIUMPH AGAINST ALL ODDS
At WaterSportMallorca we have been following the professional career of Gisela Pulido (Barcelona, 1994) with great attention for years. Since 2004, when she won her first world kitesurfing title at the age of 10, she hasn't stopped amazing us. It could be said that with her, this water sport, until then little known, grew and became popular.
Her nautical art and her body fluidity on the kitesurf board while mastering her kite have made her the youngest winner in the history of this sport. In fact, she holds the Guinness World Record as the youngest ever world champion.
But such a feat remains a mere anecdote in her record after having retained the world title ten times as the empress of freestyle kitesurfing. Indeed, her greatest achievement is that, since 2004, her trajectory and podium conquest has been unstoppable (and consecutive) until 2015. Even in recent years, when she turned his sporting career towards Formula Kite racing, her record continues to be a success story.
Her contract with Red Bull gave her the resources she needed to develop a brilliant racing career at a very young age. And today, at the splendid age of 26, she has the experience and emotional maturity of a much older person.
Likewise, her travels all over the world in search of the best spot; her participation in hundreds of different competitions; her natural inclination for risk sports; and her admirable tenacity to combine her sporting facet with her personal life, make Gisela Pulido an athlete worth knowing in depth.
Let's dive a little into her biography to inspire us and strive to make the most of what the aquatic environment has to offer.
10 INTERESTING FACTS ABOUT GISELA PULIDO
1- HER GREATEST ACHIEVEMENTS
She won her first Kitesurfing World Cup when she was only 10 years old competing against adult opponents (26 to 30 years old). In the following 12 years, she won 10 world championships.
She crossed the Strait of Gibraltar competing against a ferry from Tarifa to Tangier. She became the first woman to sail the Twelve Apostles, in Australia, and the first person to link all the Canary Islands with her kitesurfing.
At the age of 12 she was already sponsored by big brands such as Red Bull and Movistar, who saw in her a born star. In addition, her merits and talents have earned her a place in the list of the top 5 extreme athletes in the world.
Her latest medal was won recently, in 2020, in the Formula Kite Spain Series, in the women's category, a first big step towards her dream of becoming a Formula Kite World Champion!
Outside the competitive circuits, Gisela has been collecting a whole string of awards and recognitions. Like the Medal of the Royal Order of Sporting Merit (2011); the Fun Fearless Femail award from Cosmopolitan magazine (2010); the award from Mujer de Hoy magazine for being one of the most admired sportswomen in Spain (2011); and being recognised as the best Spanish sportswoman in the Mundo Deportivo newspaper, Telva magazine and the Sports Press Association (2016).
Permanent physical and technical work beforehand and a great capacity for concentration have been the keys to so many triumphs.
2- HER STYLE IN KITESURFING
Gisela practices the discipline of Freestyle Kitesurfing, which allows her to show her agility to perform incredible jumps and technical manoeuvres. To achieve this, she uses boards and kites specially designed for this modality.
However, as a passionate water sports enthusiast, Gisela practices with other modalities such as Kitesurfing, Hydrofoil and, above all, Surfing. Not forgetting that, in recent years, she has decided to venture into the Formula Kite discipline.
3- GISELA'S SUCCESS: A FAMILY AFFAIR
As is often the case with child prodigies, behind their success lies the support of their parents. And in Gisela's case this is undeniable. Her father was the one who bet on her talent, instilled in her the necessary discipline to polish it and was her personal trainer for twelve years. Thanks to his training, she managed to win the ten world championship titles she holds
However, the negative cost of this parental support was the separation from her mother, who stayed in Barcelona, while father and daughter moved to Tarifa. The truth is that her mother considered Gisela to be too young to enter professional competition at the age of ten. She feared that it was not a good option for Gisela, while her father was convinced that the girl could go far in kitesurfing.
Those years of maternal absence in Gisela's daily life are behind her, and today both her mother and father maintain an excellent relationship, despite their divorce. In addition, both parents run Gisela's two kitesurfing schools.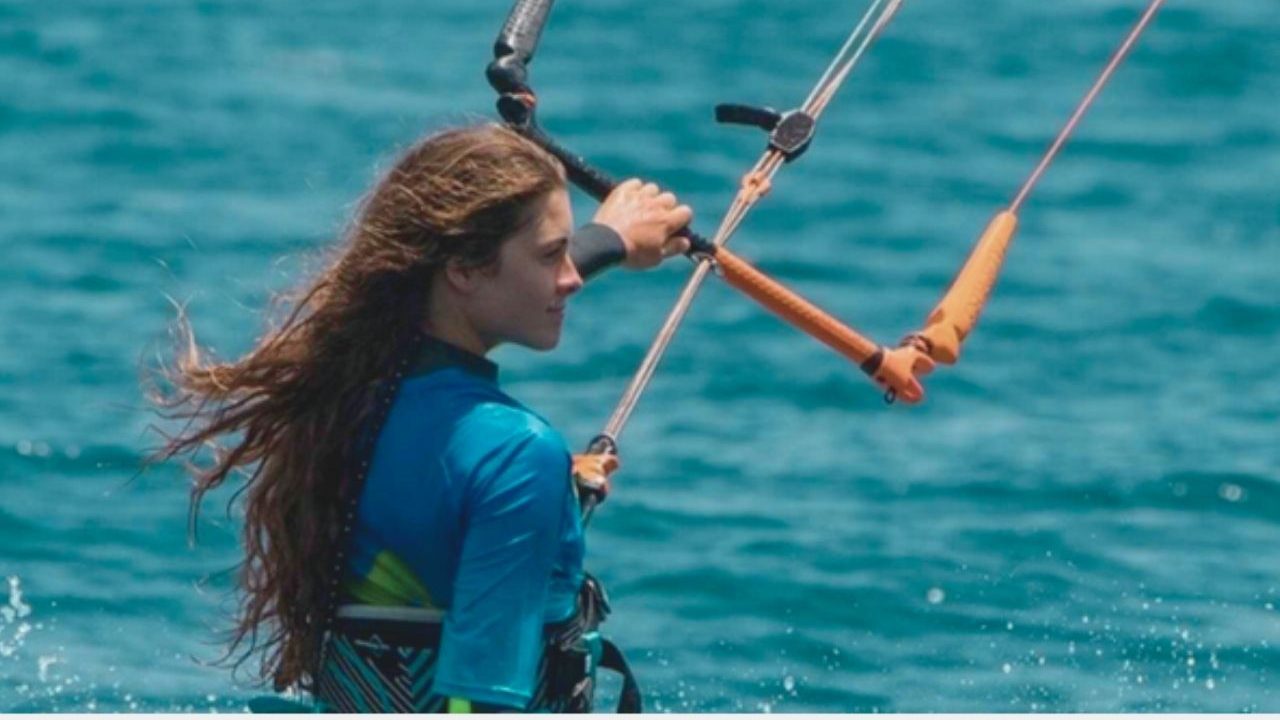 4- her place in the world
Although she was born in Premià de Mar, in Barcelona, Gisela feels 100% from Cádiz. She moved to Tarifa with her father when she was 10 years old and made the decision to pursue a career as a kitesurfer. Since then, she hasn't changed her residence.
The weather conditions in Tarifa allow her to practice her discipline all year round and do not take her too far away from her family in Barcelona. But she also opened her school there, gives free rein to her hiking hobbies in the fields and wilderness areas of the area, and now her mother lives in Tarifa as well. For Gisela, Tarifa is everything: her refuge, her paradise and her privileged spot, both for training and for enjoying her passion for water.
She has also been named Favourite Daughter of Cadiz, one of her greatest prides.
5- THE UGLY DUCKLING OF THE SCHOOL
Like so many other child prodigies, Gisela was unfortunately bullied as a primary school student when she moved to Tarifa. Her shyness and introversion, her position as a foreign child, her life dedicated to competitive sport,… Many factors played against her when it came to feeling integrated with her other schoolmates. She would have to reach the high school stage to leave bullying behind and make friends among her classmates.
This stage of bullying is one of the hardest episodes narrated by the kitesurfer in her written and documentary biography. Fortunately, she was able to cope with this experience thanks to her passion for the sea and kitesurfing and the awards she won. Undoubtedly, dedicating herself to what she loves most in this world and winning so many championships helped to strengthen her self-esteem. As well as meeting great people throughout her sporting experience and her travels around the world, from where she has made great friends.
6- 2015: A TURNING POINT IN HER LIFE
After winning her tenth title as world kitesurfing champion, Gisela and her team wanted to take a break, stop competing and look for new horizons. This break coincided with a moment when her father decided to stop being her personal trainer, as he considered that he didn't have much more to teach her. Gisela took the opportunity to learn to make her own decisions as an athlete and a woman who wanted more freedom to fly on her own.
It was a difficult period for Gisela, in which she distanced herself from her father for a while, and chose to travel the world on her own. An experience that helped her to mature and refocus her life in general.
During the following 3 years of respite from Kitesur Freestyle, she took the opportunity to reinvent her sporting career. She now participates in regattas with Formula Kite and it didn't take her long to win her first medal in 2020.
She also took advantage of this break to venture into new personal challenges, always linked to water sports, but away from kitesurfing. An example of this was her adventure to connect the eight islands of the Canary Islands or to go to Hawaii or Fiji in search of big waves.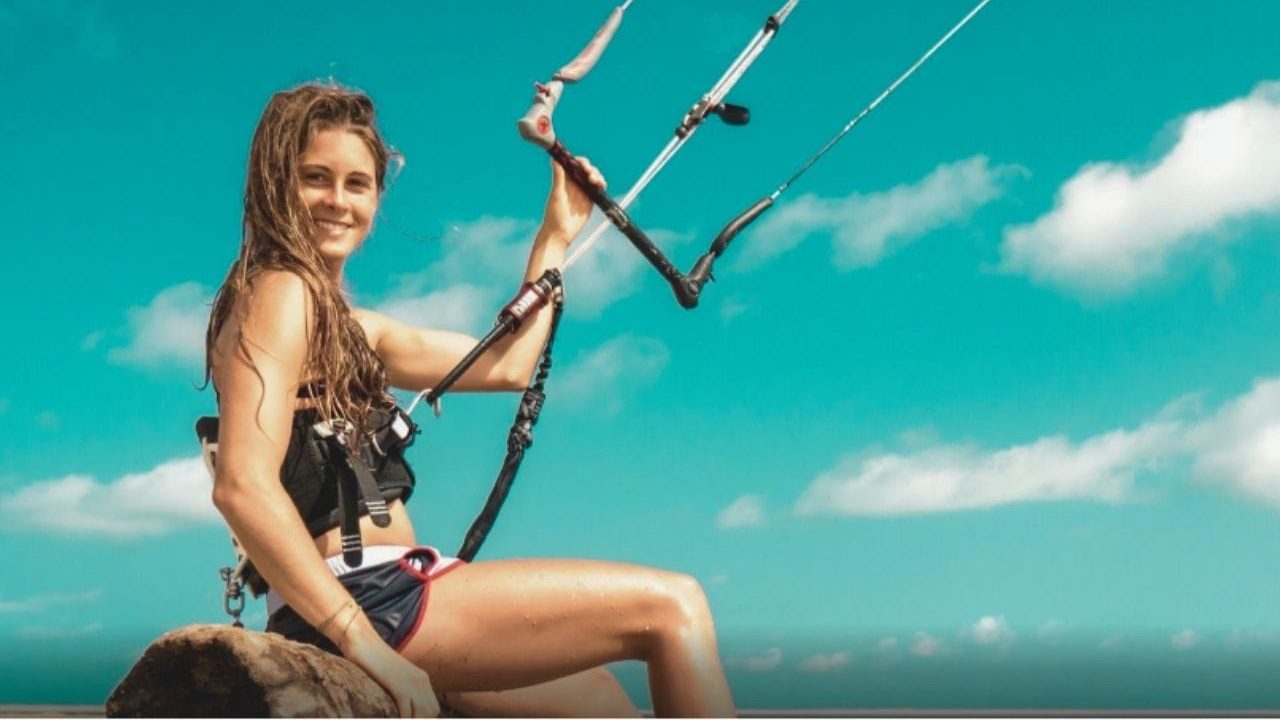 7- HER THREE FAVOURITE SPOTS FOR KITESURFING
Any recommendation Gisela gives us about kitesurfing is a 100% reliable. That's why knowing which are her favourite spots to practice this or other water sports is a very welcome piece of information.
The first of them, of course, is the Balneario beach, in Tarifa. The second spot worth knowing for kitesurfing lovers is in the north-east of Brazil for its flat water lagoons. Finally, her third favourite spot is the cliffs of the Twelve Apostles in Australia.
In all of them the weather conditions are perfect and generate the right dose of adrenaline to enjoy the most intrepid water sports.
8- HER LEGACY: HER OWN KITESURFING SCHOOL
In 2009, when she was just over 20 years old, Gisela founded her own kitesurfing school: Gisela Pulido Pro Center. She also has a shop with articles related to this sport. Both are located in Tarifa.
And as if Gisela doesn't have enough of the world, she opened another branch of her school in Nitro City, Panama, in 2015.
And, as this adventurer turns everything she touches into gold, her business project is going from strength to strength, just like her sporting career.
9- BUILDING A FUTURE BEYOND KITESURFING
A restless and forward-thinking girl if ever there was one, Gisela has managed to combine her sporting career with her university studies. Her goal is to obtain a degree in Public Relations and Advertising, a degree she is studying at UCAM (Universidad Católica San Antonio de Murcia). These studies will consolidate her facet as a businesswoman. In this sense, her goal is to be able to franchise her schools and open more centres around the world.
Apart from opening her school and her shop, in Tarifa she has invested her financial gains in the purchase of properties to rent. So she already has a plan B in place, based on business and academic preparation, for when she has to leave the competition.
10- A LIFE AROUND THE OCEAN
Obviously, Gisela Pulido dedicates part of her time to hobbies that go beyond kitesurfing. Among them are: travelling, diving, skateboarding, longboarding, cycling, hiking in the mountains, yoga, etc.
However, her passion for the aquatic environment leads her to spend more hours of her day dressed in her wetsuit than in street clothes. Because, of all environments, the ocean is her natural habitat. The one that empowers her to the point of making her feel capable of overcoming any challenge. The environment where she has to go when she wants to feel herself and feel at home.
GISELA'S KEYS TO BECOMING A WATER SPORTS LEGEND
Listening to Gisela speak or reading her life story in her biographical book Sin miedo a caer (authored by Natalia Arroyo, 2012) gives us a clear idea of why we love this girl. She teaches us that with motivation and a defined project, personal success can be achieved. Undoubtedly, we are facing one of the most magnetic and consecrated sportswomen in our country.
But, as you can see, her success involves a lot of discipline, determination, commitment, self-improvement and a voracious competitive spirit combined with high doses of psychological strength. She sums up her sporting and ambitious nature perfectly in her own words:
"I love not being the best at something, because I can become the best. And I love the effort it takes to do it. I enjoy it.
We water sports fans owe a lot to this Catalan girl who one day bet on her great dream of becoming a kitesurfing champion. And it is thanks to her that we have come to know all that this sport can give us in its Freestyle modality, as she now shows us the virtues of Formula Kite. And it would not be surprising if, with her presence, kitesurfing finally becomes an Olympic sport. Gisela has given us many reasons to consider it as such
REFERENCes