Our Water Sports Mallorca school is located in Playa de Muro, in the north of the island of Mallorca. It is an idyllic coastal area, surrounded by the natural park of S'Albufera and bathed by the crystal clear, turquoise waters of the Bay of Alcúdia. But our Bay has many more charms than just being a privileged place to enjoy splendid beaches and an exciting sea. Here are a few of the tourist attractions that will keep you coming back to the Bay of Alcúdia.
The advantages of getting lost in the Bay of Alcúdia
In some of our previous articles, such as the one about our catamaran trips, we have already mentioned the beautiful landscapes that surround our water sports school. And since the season is over for this year, we would like to share, as a farewell until next year, an imaginary trip around our spectacular Alcúdia Bay.
So this is not a post about water sports, but it will show you one of the best places in the Mediterranean where you can practice them. And not only that! It is also one of the most wonderful places where it is worth getting lost to enhance our senses and our pleasures.
Because yes, Alcúdia Bay is the perfect combination of endless scenic attraction, chill out haven, contact with nature, pleasant climate and active tourism. In addition to not being an area as overcrowded as other parts of Mallorca and the Balearic Islands in general.
All this makes Alcúdia Bay -located in the north of Mallorca- a melting pot of unforgettable experiences; where, obviously, water sports and sport boats play a key role. It could be said that they form part of its geographic and idiosyncratic DNA, as they envelop its tourist offer and the local life of its inhabitants.
It is not in vain that the Bay of Alcúdia has more than 30 km of coastline and 20 beaches where you can enjoy the sun, the sea, white sand and the aroma of salt. This makes it a prodigious enclave for lovers of the sea and water sports.
So, to stimulate your return – or to motivate a first visit – to our favourite corner of Majorca, we will give you many reasons to organise your next trip around Alcúdia Bay.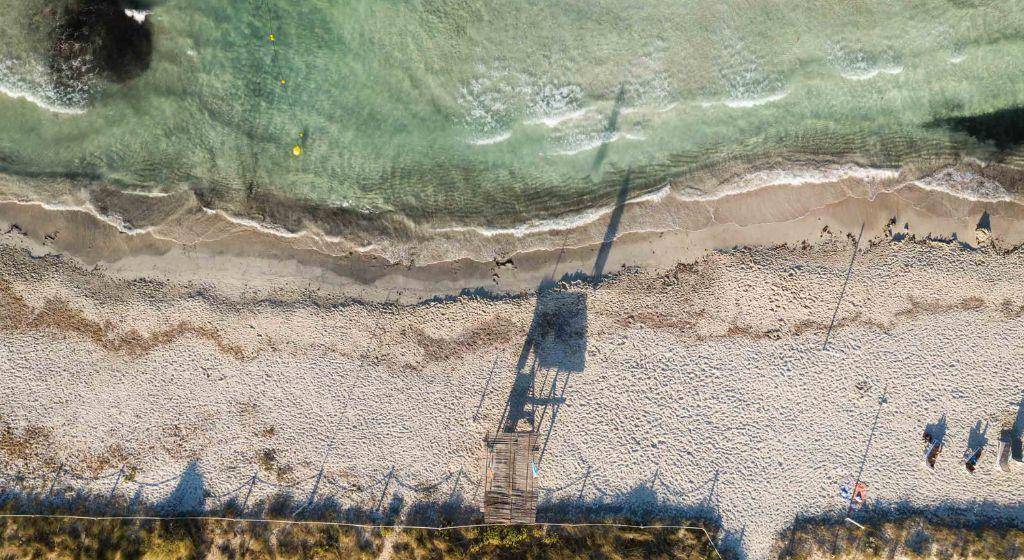 An evocative place on the north coast of Mallorca
The bay of Alcudia stretches for 35 km in the north of the island of Mallorca, including the municipalities of Artà, Muro, Santa Margalida and Alcúdia. As a Mediterranean coastal area it has many attractions, but its greatest interest is its diversity.
One part of it, the north-western part, has been developed as a place of comfort to receive tourists, those who love new and past experiences. While another part of the bay continues to shine as a virgin place, prodigious in natural and genuine spaces, full of secrets and hidden charms.
For foreigners or visitors, there is a wide range of tourist accommodation and services on offer. Infact, as a tourist enclave, Bahía Alcúdia has a long history of development in this sector.
In fact, its magnetism as a tourist destination emerged strongly between the 1950s and the beginning of the 1970s in Can Picafort; later, in the 1960s and 1980s, these accommodation services and tourist activities spread to Puerto de Alcúdia. And finally they reached Playa de Muro in the 90s.
Therefore, it is an area that is very well prepared to receive the arrival of travellers.The tourist sector and local inhabitants know how to offer a wonderful experience to those who come to Alcúdia. However, the whole area has a marked personality that sets it apart from other Mallorcan tourist destinations.
No matter what streets or beaches you walk along in Alcúdia Bay, you will always feel at home! This is the great differential value with respect to other places that are more crowded or disconnected from the local life that one can find in other parts of the Balearic island.
The ideal place for water sports
The Mallorcan bay of Alcúdia, due to the quality of its beaches, its mild weather and its nautical tradition, is a fabulous place to practice water sports of all styles. Be it sea sports, board sports, wind and water sports or boat sports.
As it is combed daily by the `embat´, a thermal wind that blows with moderate force and without gusts during most of the year, it facilitates the practice of any nautical sport. And the presence of sunny, warm days from April to October encourages you to spend more time on the water than out of it.
Likewise, although the `embat´ is a constant wind, its intensity increases from midday onwards and decreases in strength in the afternoon. This allows the expression of water sports at all possible levels. Lighter and calmer practices for beginners in the mornings and afternoons, or more intrepid and demanding sessions for more experienced water sports enthusiasts.
Moreover, it may happen that the thermal wind in the area meets a swell from the Gulf of Roses or the Ebro delta. This is the perfect opportunity to enjoy – or admire – the marine scenery of big waves in the summer season.
Therefore, as a destination for active aquatic tourism in any of its forms, Alcúdia Bay is priceless.
But hey, this bay on the north coast is truly multifaceted. And while the beaches with their crystal-clear turquoise waters are one of its main tourist attractions, it has many more charms to steal our hearts…
The great attractions of the Bay of Alcúdia
Without a doubt, it is hard to believe that in such a small space there are so many dream corners and routes full of surprises. But the Bay of Alcúdia is a carousel of contrasts. Diverse landscapes, immemorial architectural spaces, colourful scenery and refuges that exhale calm and silence. Some examples of this?
A prehistoric necropolis, timeless walls; a captivating dune system of golden sands; an impressive biodiversity of fauna and flora, whose greatest exponent is the Natural Park of s'Albufera. Not forgetting its unspoilt coves hidden from the hustle and bustle of the world; a bustling, multicoloured marina, charming dry docks and a multitude of trails that take you to a parallel universe,… The count is endless
Here are some of the exceptional jewels that add to the sparkle of the Bay of Alcúdia:
The evocative Old Town of Alcúdia
With its narrow streets, its stones loaded with stories, its ochre tones, its stately airs, its walls and its towers that have guarded its entrances since the 14th century; its pleasant neighbourhood shops, its gastronomic establishments of all kinds and its numerous museums and ecclesiastical buildings… The Historical Centre, halfway between the bustling and effervescent city of Alcúdia and its port, is an unmissable walk to feel the heart of Alcúdia and to lose track of time.
This is one of the most romantic and evocative spots in Alcúdia, given its many urban and architectural references that allude to different remote times.
The beautiful beaches of Alcúdia
We have mentioned it before: its kilometre-long coastline is Alcúdia Bay's greatest hallmark. And the main reason to choose it as a paradisiacal place to rest, to reconcile with life and to counteract the stress of our daily life.
There are around twenty beaches in the Bay, and all of them are worth a visit. But perhaps, at the risk of being questioned, we consider Alcudia beach itself, Muro beach, the hidden beach of Coll Baix, Sant Joan beach and S'illot beach to be a must. All of them have a great visual and tactile impact, due to their beauty and the quality of their waters and sands.
Not forgetting the beautiful promenades that invite you to stroll along them in peace and quiet at sunset – there is no more moving and grateful way to end a day!
Its multicultural historical legacy
For those who are passionate about historical and cultural tourism; for those who love to unravel stone secrets, to admire the multicultural traces that make up the physiognomy of places; and for those whose imagination is stimulated by ruins, Bahía de Alcudia will fascinate them.
To the south of Alcúdia is the Roman site of Ancient Pollentia. But the Bay itself also contains various medieval settings – the historic centre of Alcúdia, among others – and Muslim and Catalan reminiscences everywhere.
Undoubtedly, there are many walks through the different municipalities that hold formidable surprises from ancient times that coexist with the most modern urban centres
The colourful Port of Alcúdia (Port D'Alcúdia)
The gateway to the Old Town of Alcudia, the Port of Alcúdia attracts the attention of any visitor with its jetties and its multitude of moored ships. Its dock is a festival of colours, masts and sails, as well as an important commercial centre.
With a medieval past as a port town, today it is a very attractive marina and a fishing port. But it is also a port for boats that transit between the island of Menorca and some ports on the mainland.
Port d'Alcúdia is also a very central tourist resort, lively and exhilarating during the day and offering an active nightlife. Its beautiful sandy beach is also one of the most popular on the north coast during the summer months.
The explosion of life in the Natural Park of S'Albufera
And if we are talking about unique natural spaces, Bahía de Alcúdia has its own replica of the Garden of Eden. To get to know it you simply have to visit the S'Albufera Natural Park. An essential visit to understand and get to know the deep, virgin and telluric Bay of Alcúdia. In short, it is the lungs – and the soul – of our bay.
Located in a marshy area between the town of Can Picafort and the medieval town of Alcúdia, the Albufera is simply a lively and magical place. A place where nature explodes in all its splendour and we can observe the immense biodiversity of the area, ideal for bird lovers, given the large number of bird colonies that gather in this park!
There are numerous hiking and cycling routes that cross several points of the S'Albufera Natural Park. Also, another sensational way to admire its grandeur from the sea is through the catamaran rides that we organise at Water Sports Mallorca.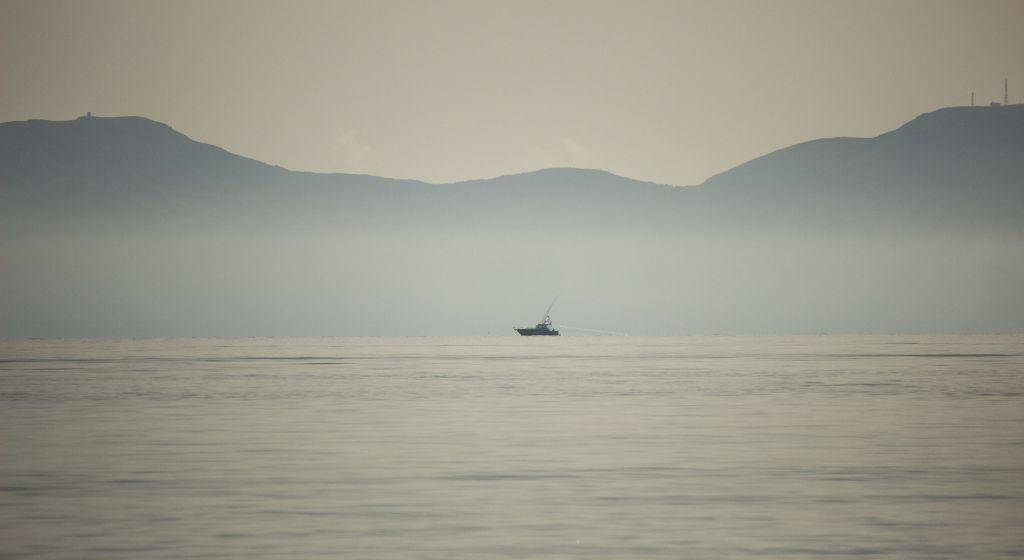 The imposing Tramuntana mountain range (Serra de Tramuntana)
Finally, we do not want to close this list of incredible places to enjoy during a stay in the bay of Alcudia without mentioning this emblematic mountain range. Its proximity makes it worth a visit.
Declared a UNESCO World Heritage Site as a cultural landscape in 2011, with this reference you can imagine the preponderance of this area. The Sierra de Tramontana mountain range stretches like a spine across the northwest of Mallorca and gets its name from the north wind that blows across it.
It also has peaks of over a thousand metres, three interesting reservoirs -Cúber, Gorg Blau and Puig Major- and snow-capped peaks in winter. In addition, there are vertiginous canyons such as the Torrent de Pareis.
It is therefore a natural terrestrial environment ideal for hiking and enjoying its monumental broken mountains and its exceptional wildlife.
Playa de Muro, one of the most magical places in Alcúdia Bay.
In short, the Bay of Alcúdia has so many enchanting landscapes, and we have only mentioned a handful of essential places!  There is no end to quality leisure activities here. Every square metre of this northern coast of Mallorca is worth experiencing, feeling and tasting.
However, if there is one corner of the Bay that always awaits your arrival and will welcome you with open arms, it is the beach of Muro. It is the refuge of our water sports school, and we guarantee that it was not chosen by chance!
It is precisely because we know the virtues of this dream coastline that Water Sports Mallorca is located in Playa de Muro. Its privileged climate, its crystal-clear waters, its delicate sand, seem to us to be the best place to practice sport. At the same time, its proximity to the Natural Park of s'Albufera and the spectacular landscape of dunes dotted with pine trees, keeps us rooted and in love with this sublime beach.
Thus, our team of expert instructors in water sports adds another incentive to your trip around Alcúdia Bay. This is none other than to provide you with fun and unforgettable moments while you learn to enjoy surfing, kitesurfing, SUP, windsurfing, wing foiling or catamaran sailing.
In short, if discovering every metre of the Bay of Alcúdia is a gift for your senses; getting into the world of nautical sports will give you that extra sense of wellbeing and passion you are looking for. What more could you ask for?
We look forward to seeing you again at our school from April next year, we still have many fascinating moments to share and more waves to surf together!
References consulted