[click_to_tweet tweet="What is a catamaran? Discover this exciting experience!" quote="What is a catamaran? Discover this exciting experience!" theme="style2″]
In our school, Water Sports Mallorca, we have the best catamaran rental service and catamaran classes in Mallorca. If you don't know what a catamaran is, we explain it to you in this article. Don't miss the opportunity to discover this jewel of water sports!
WHY TRY THE CATAMARAN SAILING EXPERIENCE?
One of the most pleasant experiences we recommend if you like water sports is sailing on a catamaran. A boat that allows us to enjoy the sea and the wind, being able to reach great speed; as well as enjoying a sensational -and relaxing, if you like- sea trip. Its versatility, then, is one of its greatest advantages. That is why today we will explain what a catamaran really is and what its powerful features are.
In our water sports school we have been teaching beach catamaran classes since 2002 to learn how to sail with ease. And we can guarantee that in recent years its use has become more and more popular, largely because it is a safe and comfortable sport, which can be enjoyed by teenagers, adults and also people with disabilities. In short, it is a water sport for everyone.
In fact, one of the opportunities that catamaran sailing gives us is that we can share this time with other people. Be they friends, family or crew mates. This will enrich even more the experience of enjoying great moments at sea.
And if you are a beginner, don't worry! Our team of instructors will teach you all the manoeuvring techniques – you will see how easy it is to handle a catamaran – and will adapt to your learning pace. What's more, the Bay of Alcudia, where our school is located, has the ideal weather conditions to get you started and enjoy this fabulous sport.
Don't let this summer come to an end without having tried the unique experience of sailing the sea on a catamaran! See yourself enveloped in the sea breezes and the scent of saltpetre and feel like an expert captain as you sail the sea, it's priceless! Find out for yourself!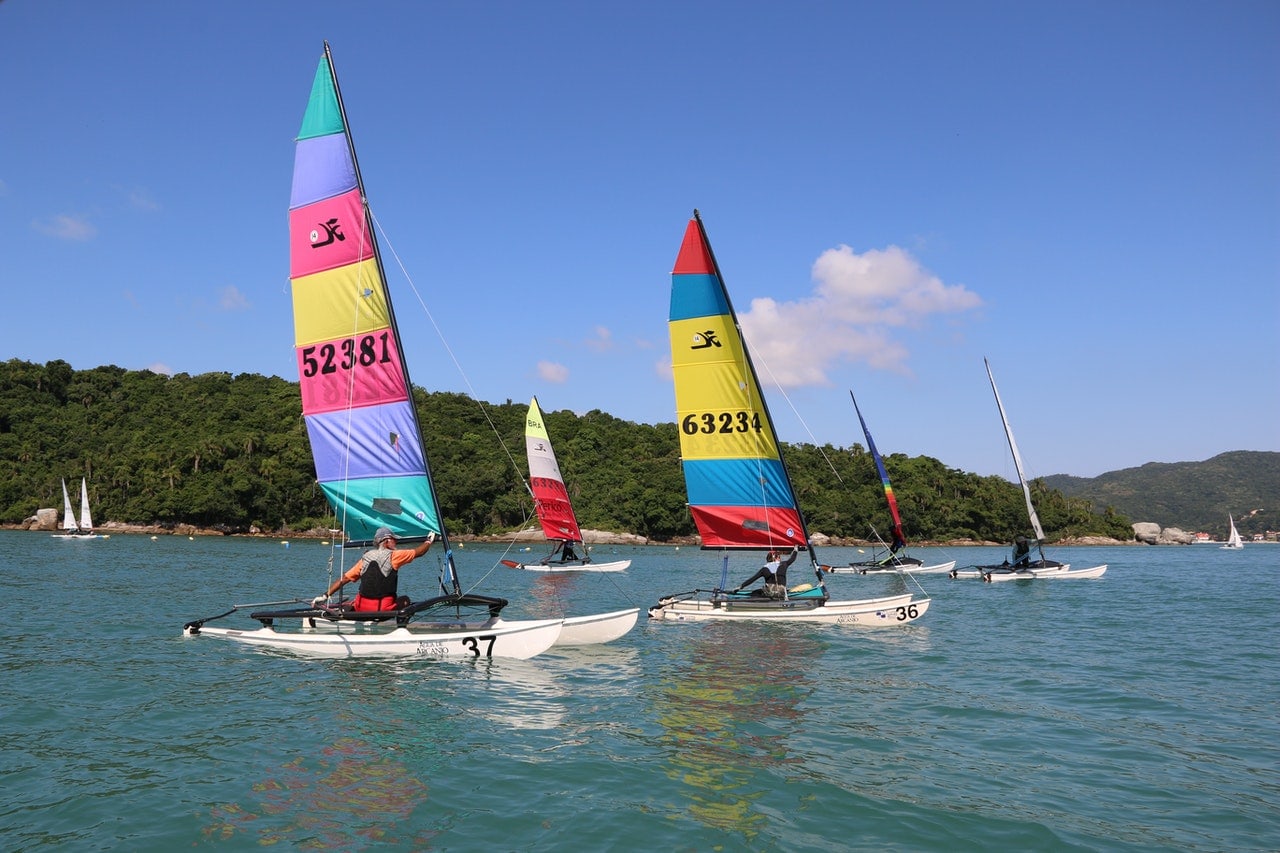 WHAT IS A CATAMARAN?
Although it is true that the sport catamaran is becoming more and more in demand, its use is not as popular as other water sports. Moreover, there are many types of catamarans, some simpler and others extremely sophisticated. Here we will talk about beach or sport catamarans or recreational dinghy catamarans.
Catamarans can be sail or motor catamarans and generally consist of two hulls joined by a central structure. This is what makes them different from monohull sailboats and what simplifies their sailing manoeuvres: they are multihulls. Likewise, the absence of heel and its two hulls provide greater stability and safety for passengers. It is undoubtedly a wonderful boat for sharing a relaxed sail with other people..
Dinghy catamarans, on the other hand, are those that can be anchored on land. In fact, they are also called beach catamarans because they do not need to be moored in a harbour, as is the case with other models.
They do not have a propulsion engine and, in fact, they are driven by the wind.
Specifically, in our sailing school we use Hobie Cat catamarans, a leading company in this type of boats. On the one hand, we have the Hobie 15 model -that is to say, 15 feet-, adapted for four people on board. And on the other hand, the Hobie 18 Pacific model, with space for five people and a little faster than the previous model.
In short, catamarans are light, comfortable and fast boats, which allow you to cover long distances in a short time. That is why they are so ideal for pleasant sea excursions. And, given their shallow draft, they can approach the shore and beach themselves in almost any bay. This is a great advantage.
DON'T MISS OUR COURSES ON HOW TO RUN A CATAMARAN
In our sailing school you can enjoy private lessons or group catamaran courses. Whether you are a beginner or you want to improve your sailing technique. We adapt all our lessons to your pace and guarantee full safety while sailing.
We also help you choose the best time of the day to sail, depending on your level and your learning needs. Early morning and late afternoon is the ideal time for beginners to sail, as there is little wind and little swell. While in the central hours of the day you can take advantage of this time to perfect your technique and sail at a higher speed. Here we will teach you to execute more elaborate manoeuvres and to react more quickly to the intensity of the wind.
You will discover how exciting it is to sail a catamaran and, above all, how easy it is to learn how to handle it. We leave no detail untaught. In fact, in our classes you will learn how to:
How to capsize and un capsize the boat.
Starting from the sand, with different winds.
Beaching the boat on the coast.
Performing basic sailing manoeuvres: maintaining different courses, learning to tack and gybe, sailing on the trapeze and raising the gennaker,…
Practise the man overboard manoeuvre.
As we have already mentioned, we also have catamaran classes adapted for the visually impaired. You just have to specify the degree of blindness and previous sailing knowledge, if you have any. In this way, our professional instructors will personalise and adapt the classes as much as possible to the student's needs.
Finally, in our school you will be able to rent both the catamaran and all the necessary equipment to go to sea, if you are already an expert in the matter.
You will find more detailed information about lessons and catamaran rental on our website, take a look!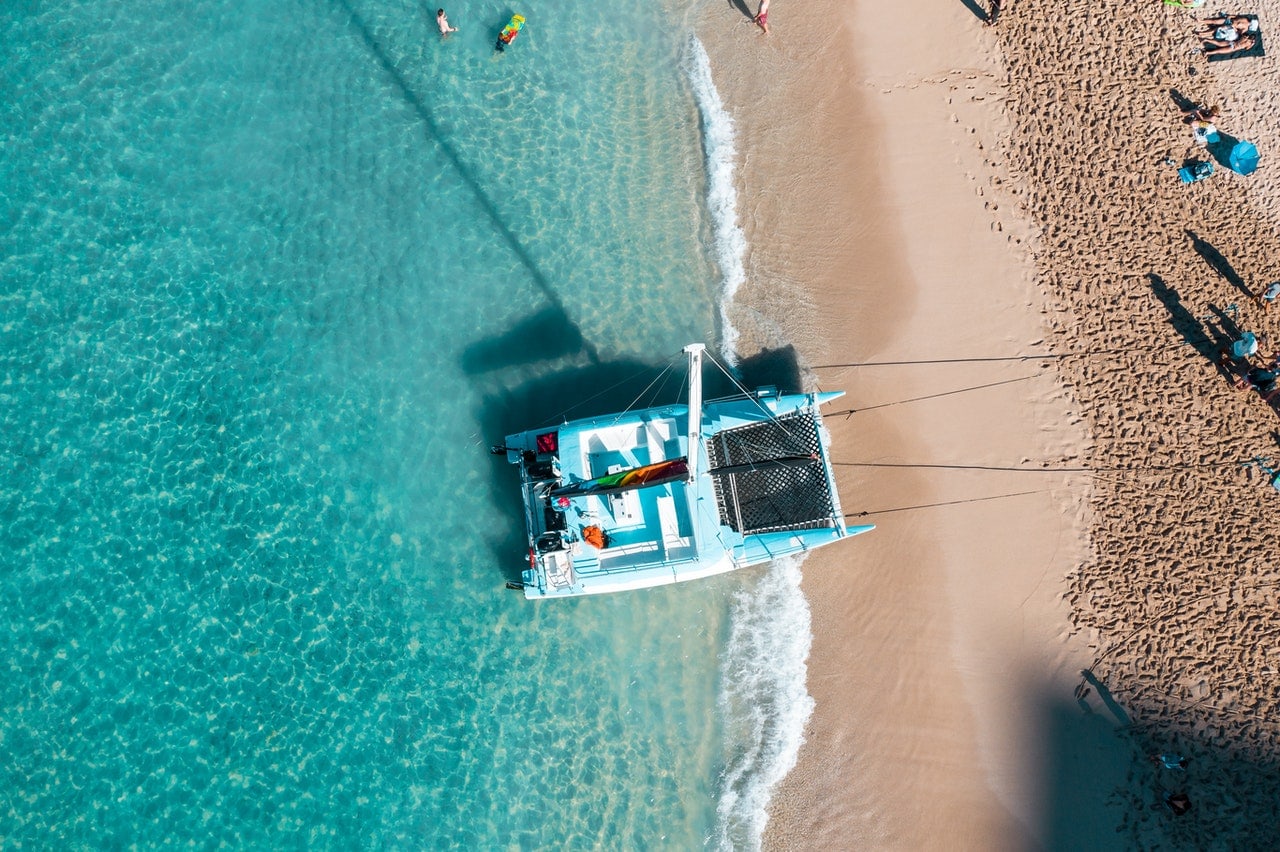 WE ALSO OFFER CATAMARAN TRIPS
And if you don't have time to take catamaran lessons, but you do want to enjoy the sea and get to know the most beautiful corners of the coast of Mallorca, accompanied by a skipper, we have the solution for you! Well, at Water Sports Mallorca you can hire a catamaran trip for four or five people, crewed by our professional instructors.
This is a wonderful and original experience to live with family or friends, getting to know part of the Majorcan coast from the heart of the sea. In addition, the shallow draft of the catamarans allows you to sail through shallow reef passages and anchor very close to the shore, if you want to set foot on one of our beautiful beaches..
We will set off from the beach of Muro, in the north of Mallorca, and show you the beauty of the Bay of Alcudia. From there, you decide the destination to reach and our instructors will design the most fascinating itinerary. We will do our best to offer you a personalised experience on board a catamaran, so that you will enjoy an unforgettable excursion.
Enjoy the sea and the coves of crystal clear waters, the most beautiful corners of the coast and the port of Alcudia; visit the white sandy beaches of Majorca,… A catamaran tour is an experience not to be missed.
As you can see, catamarans offer the perfect balance between sport and fun or excursion and relaxation. That's why we consider their versatility of use to be their greatest attraction..
At Water Sports Mallorca we offer you a whole range of different proposals so that you can get into the exciting world of catamarans. Believe us that getting to know them will add quality to your holidays!
Our catamarans are waiting for you to set sail! Don't stay on land!
REFERENCIAS CONSULTADAS