Windsurfing is a very attractive water sport and, contrary to what many people think, very affordable. In recent years it has become increasingly popular, thanks in part, to the technology applied to the lightening and quality of its equipment. Today we share with you some information to help you dive deeper into this water discipline.
DIVE INTO THE FASCINATING WORLD OF WINDSURFING
Windsurfing is a water sport based on the use of a board, similar to a surfboard, which allows you to ride the waves of the sea or calm waters. But this board has a mast and a sail attached to it, which will be essential for the action of propelling the board according to the force of the wind.
It really is a fascinating water sport which, while not extreme and complicated to learn, does have its own technical peculiarities, which are worth knowing. After all, you have to know how to keep your balance while handling the sail and analysing the direction of the wind.
But with a few good windsurfing lessons you can enjoy the feeling of freedom and freshness that this sport brings. For this sport you don't need to be physically strong, at least at beginner levels, although a little bit of madness and passion for the open sea is appreciated to get the most out of it.
At our Water Sports Mallorca school you will learn everything you need to know about windsurfing, regardless of your level. And another great advantage of this sport is that it is suitable for all ages, from children to adults and also for the visually impaired.
In addition, we are fortunate to be located in Alcudia Bay, on the beach of Muro. A privileged place due to its lack of waves and its gentle winds, or more intense and more propulsive winds, depending on the time of day. Therefore, we are in the ideal spot for learning windsurfing or perfecting your technique.
We'll tell you a few things about this water sport, which seems fiercer than it really is. But hey, it's not advisable to windsurf on your own, either, because there are risks involved.
A FIRST IDEA OF THE ORIGINS OF WINDSURFING
Windsurfing was invented with the idea of riding the sea, or surfing the waves, using a sail on a board to propel oneself in the wind. To do this, a harness must be attached to your trunk.
Its origins date back to the 1930s and its creator was the legendary American surfer Tom Blake. However, the materials used to build the board, the sail and the rest of the equipment were not very comfortable. In the 1950s Newman Darby improved the design of the windsurfing board.
However, it was not until the 1970s that windsurfing was perfected and became more popular. Thanks to the intervention of the engineer Jim Drake and the surfer Hoyle Schweitzer, a system and a type of windsurfing board were created to be able to surf at high speed, even without the presence of waves. And that is precisely the great characteristic of this sport: that almost any aquatic space allows it to be practised, even when there are no waves. It is enough if there is wind.
During the last two decades of the 20th century, the sport gained popularity, especially in Europe. But the equipment was still complex to handle and caused the occasional bruise.
In recent years, however, this water sport has been equipped with great technological advances, especially in terms of equipment. And with the evolution of lighter and safer equipment, windsurfing has become a very dynamic, attractive and creative sport. This is reflected in the freestyle mode.
Today windsurfing is a fun sport with great benefits for physical and mental health. So much so that it can be perfectly adapted to people with visual impairments.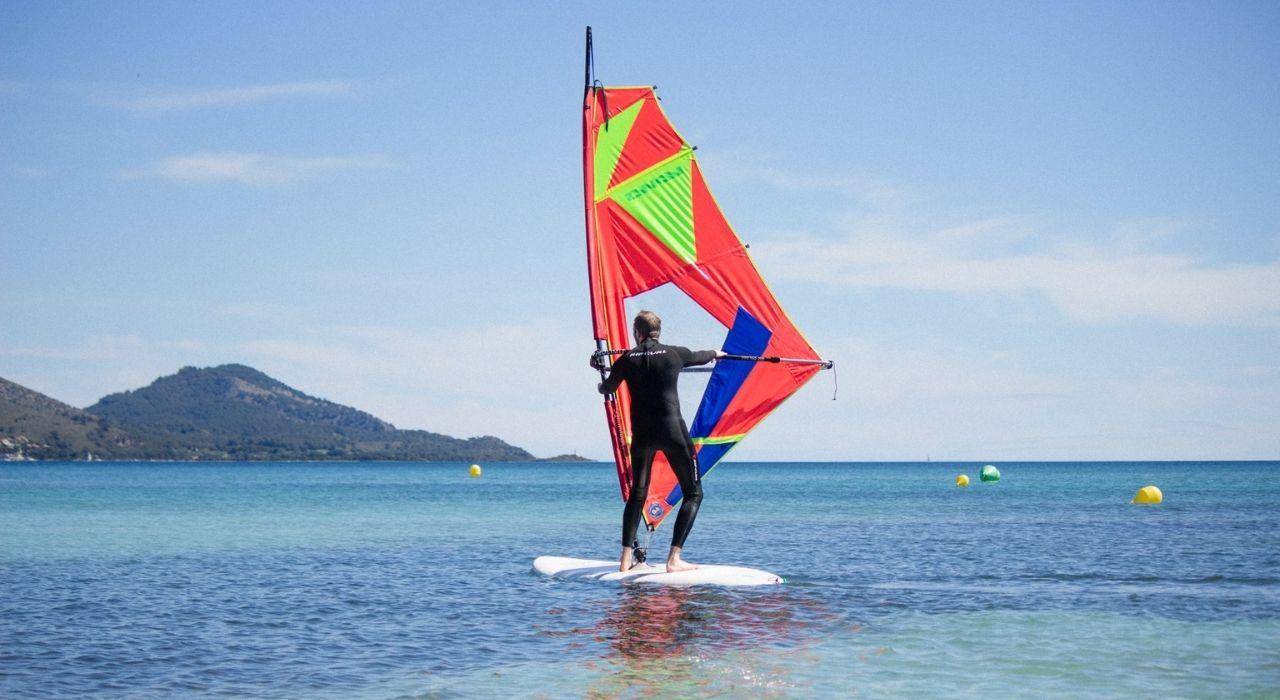 HOW TO GET STARTED IN WINDSURFING
If you are a beginner in this sport, you should start by making contact with it in calm, shallow waters with little wind. And, little by little, as you learn to get to grips with the handling of the sail and the necessary balance on the board, you will perfect your mastery.
You can then specialise in a more specific type of windsurfing and know how to practise it in more demanding conditions – with more intense waves and winds. At these more pro levels, windsurfing does become a more complex sport, requiring a high level of skill and fitness.
However, at the beginning, the best thing to do is to put yourself in the hands of professional instructors who will give you a few windsurfing lessons where you will learn key guidelines; how to gauge the direction and strength of the wind and the right glide speed.
It is also advisable to take lessons to avoid the main risks: small bumps and falls. Or those back strains you might get when trying to lift the sail. We teach you how to overcome these inconveniences with practice and good body movement habits.
In addition, going to a windsurfing school, like ours, will help you to choose the right equipment according to your physical constitution and your level.  This way, you will be able to rent the equipment for as long as you need it and you won't have to invest too much money in equipment that you will no longer be able to use. Because, as you progress and become more advanced, the material resources change.
The same applies to the type of windsurfing that is practised, which requires special equipment. That brings us to the next point: the types of windsurfing that exist…
TYPES OF WINDSURFING
There are at least three different types of specialisations in this discipline. Here is a brief overview of them:
Wave: The windsurfer needs waves of at least 1 m. and a lot of wind. As with surfing, the main task is to ride the waves and perform turns, not without some complex acrobatics.
Race, Formula or Slalom: these are types of competitions where the athlete has to complete trials or speed courses. They have to go around buoys with the wind blowing through them until they reach the finish line, or complete several laps of the course. In these competitions the wind is the absolute protagonist. Unlike Slalom, the Formulas can be practised with winds from 6 knots – in Formula Windsurfing – or 9 knots – in the case of Formula Experience. Even winds of 30 knots are possible.
Freestyle or freestyle: this is undoubtedly the most popular form of this discipline. Here spectacular jumps and pirouettes are performed, but always in flat water, without waves.
Other types of windsurfing, such as wing foil or wing surfing, Bump & Jump, etc., are also gaining popularity. Since this discipline is in constant evolution and recreation.
NECESSARY EQUIPMENT
At first, the basic equipment is the windsurfing board, the sail and the harness. As we have already mentioned, there is a wide variety of windsurfing boards and sails, depending on your level and your physical condition or weight.
Depending on the time of year, you may also need a wetsuit and special footwear, and yes, this sport can be practised in any season of the year, as well as in seas, lakes and marshes. As you can see, it is a very versatile and adaptable sport!
At our windsurfing school, our instructors will advise you on the ideal equipment for you.
Just as a good knowledge of the technique is essential for the successful practice of windsurfing, so is good equipment.
That's why at Water Sports Mallorca we work with the best brands on the market and renew our equipment regularly. We also give our students the option of trying out different types of boards, sails or rigs so that they can find the ones they are most satisfied with.
In this sense, we have 7 different models of windsurfing boards and all sizes of sails, from 1 m. to 8 m. square. We also have the full range of necessary accessories such as wetsuits, harnesses and waistcoats. All these items are made of very light, safe and high quality materials.
A SPORT FOR ALL AGES
One of the disadvantages that people see in getting started in windsurfing is age, and nothing could be more wrong!
You can start windsurfing from the age of 6 years old until you are well into adulthood, as there is no age limit due to the conditions in which it is practised. You don't need to be a natural sportsman or be in very good physical shape. This depends on the level of windsurfing you practice or the type of windsurfing you want to do.
But the great thing about this water sport is that it offers many levels of sporting intensity. You can choose to do it calmly, with no greater pretensions than mastering the sail and balance on the board. Or you can progress in levels and add more challenges, performing pirouettes in stronger winds and lots of waves. Undoubtedly, its diversity of practice is one of its greatest attractions.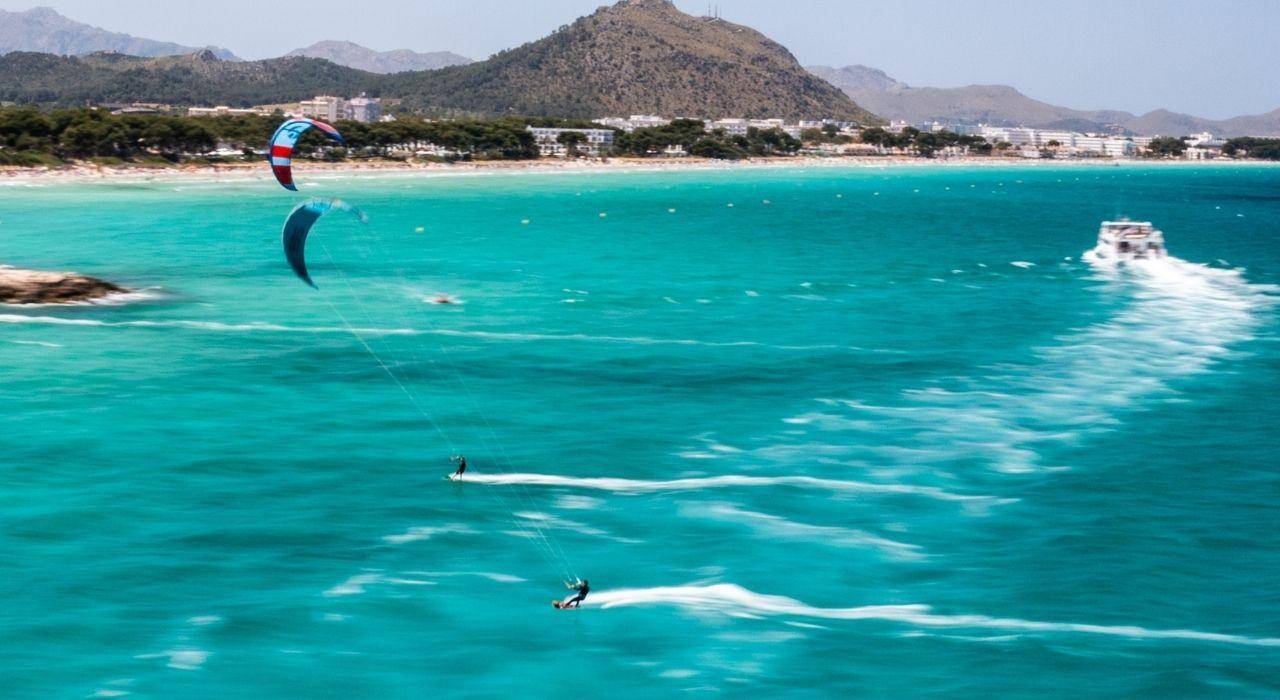 IT DOES NOT HAVE TO BE A RISKY SPORT
Indeed, another misconception about windsurfing is that it can be a complicated or extreme sport. In other words, it can cause a lot of physical problems if you are not sufficiently physically prepared. As we have just pointed out above, this depends on the level and type of practice you follow.
It is true that, in the past, the equipment materials were heavier and more difficult to handle. But nowadays, thanks to today's lightweight equipment, any minimally healthy person can take up windsurfing without major risks. Especially when they are supervised by instructors, if they have not yet mastered the subject, because a large part of the bumps or discomfort caused by the practice of windsurfing depends on not following a proper technique because they are self-taught.
Small bumps are becoming fewer and fewer, due to the quality of the materials. And as for muscle strains, we will give you good advice on how to raise the sail, for example, without straining your back, but with your legs. Or other physical recommendations so that your body doesn't suffer.
However, if you finally get hooked (and I'm sure you will) on windsurfing and want to practise it, we advise you to take out sports insurance. Of course, it is optional, but it has the advantage of covering you for any incident or accident you may have anywhere in the world.
WE ARE WAITING FOR YOU IN OUR WINDSURFING SCHOOL
Don't let this summer go by without getting into this wonderful and exciting water sport. Enter our website, in the windsurfing lessons section, and discover the different courses available to you. Individual or group lessons, for children or adults, for the visually impaired, etc…
And if you have any doubts, talk to our instructors, we will be happy to advise you and offer you the best option for you.
Make the most of your stay in Mallorca and take advantage of the fabulous weather opportunities offered by our spot in the heart of Alcudia Bay – not everyone is so fortunate! We look forward to seeing you at our water sports school, we're sure we'll have a great time together!
REFERENCES CONSULTED