In just a few years, wing surfing has become an essential water sport to enjoy the sensation of flying over the sea. Its simplicity, state-of-the-art materials and the possibility of sailing with little wind make it an accessible water activity for beginners. Undoubtedly, the ideal sport to approach other disciplines linked to the infinite world of surfing.
WING FOIL: THE WATER SPORT THAT IS ALL THE RAGE AROUND THE WORLD
It was 2019 when some striking images appeared of a guy surfing the waves with a strange board and an even more avant-garde wing. The naturalness of this character flying over the sea made us water sports enthusiasts very excited. A new discipline had been invented, the wing surf -or wing foil– and at our Water Sports Mallorca school we were quick to implement it in our classes.
In just three years, wing foiling has taken water sports by storm. Today, not only has it become a fashionable sport, but it even has its own championships or circuits. Indeed, like other water sports, such as wind surfing or paddle surfing, wing foil surfing is here to stay… and to make our lives more extraordinary!
This discipline consists of gliding over the water on a board with a foil at our feet, at the same time as we glide, propelled by wind energy, with the help of an inflatable wing that we control with our hands. But what is really fascinating about wing foiling is to admire how the most cutting-edge technology applied to the world of surfing is advancing by leaps and bounds, simplifying methods and materials.
Actually, the wing surf is the latest leap – for the moment – in the evolution of other sports such as kitesurfing and windsurfing. The best international brands are developing boards with increasingly precise foils and higher performance, and inflatable and lightweight wings, so that we can sail even in low-power winds.
With the right wing surfing equipment, anyone can fly over the sea in winds of just over 10 knots. This makes it a very versatile water sport, suitable for everyone and easy to learn.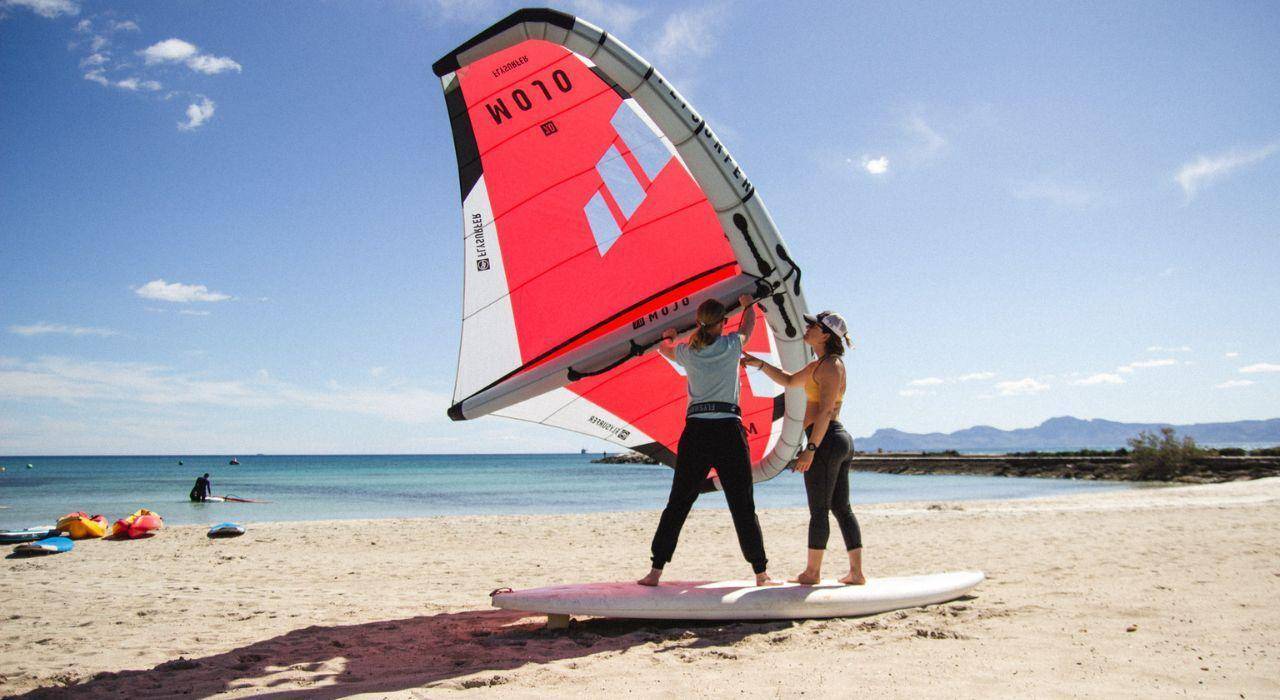 WING SURFING: WATER SPORT IDEAL FOR BEGINNERS
Indeed, the great thing about wing foiling is that it is conceived as a sport adapted to all types of people and all types of winds. In fact, although it stands out for being a nautical modality that can be practised in light winds, and that is its great attraction; in reality, wing foil can go from being a calm activity to being pure adrenaline depending on the wind.
It can be practised in wind gusts of between 5 and 35 knots, in other words, with foil surfing you can go from zero to a hundred if you want to, not bad at all!
Its great adaptability makes it a very popular sport for kiters and windsurfers who already know how to sail in the wind; it is also very attractive for beginners, who want to start practising their first water sport in the wind. This includes people of all ages, physical type, previous skills or not and whether or not they have knowledge of water sports or any other.
It is true that wingsurf has many reminiscences of kitesurfing and windsurfing. Well, from the first one it takes the sensations provided by the handling of the wing, with a format very similar to kitesurf kites; while from windsurfing it inherits its functionality and many of the physical behaviours that it demands.
However, the differentiating element of wing surfing is that it is a much safer, smoother and more manageable discipline. All this motivates many kitesurfers and windsurfers to enjoy the novelties that wing foil offers.
However, due to other characteristics, if you have not practised any water sport in the wind, this is an ideal way to get started in a surfing modality. As we have already mentioned, you don't need to be in specific physical shape, nor have any nautical knowledge or experience. This is the reason for its success with riders.
SOME BASICS ABOUT WINGSURFING
Unlike kitesurfing or windsurfing, here the wing or kite is carried directly with the hands, without the help of a harness or any other kind of support. This adds to the feeling of freedom and movement.
You don't need much prior training on the beach. With just 10 minutes of instruction, you can dive into the water and take your first steps with some fluency.
If you are totally new to water sports, you can begin to practice the pleasure of flying over the sea in light winds. In addition, we will use a stand up paddle or windsurf board with enough volume to make it easier for you to maintain your balance and buoyancy. These small resources – suitable breeze and boards – will allow you to learn calmly and gain more security and self-confidence in your skills, seeing rapid progress.
In less time than you think, you will be able to master the wing and move on to using a conventional wing surf board. With it, you will be able to do your first boards and flips.
At Water Sports Mallorca we shorten the time it takes for the student to easily practice starting, gliding and carving with the Foil. How do we do it? By first being towed by a support boat, while you learn to stand up on the foil. In later lessons, you will be able to use the wing itself as a propulsion system.
In no time at all, you will be ready to use the complete wing foil equipment and perform your first manoeuvres on the sea.
Wingsurfing will undoubtedly intensify your senses and fill you with more and more fascinating experiences. That's why it's such an attractive sport: because every session is a new wave of indescribable emotions. And, almost without noticing it, you will increase your level of skill and always want to learn more.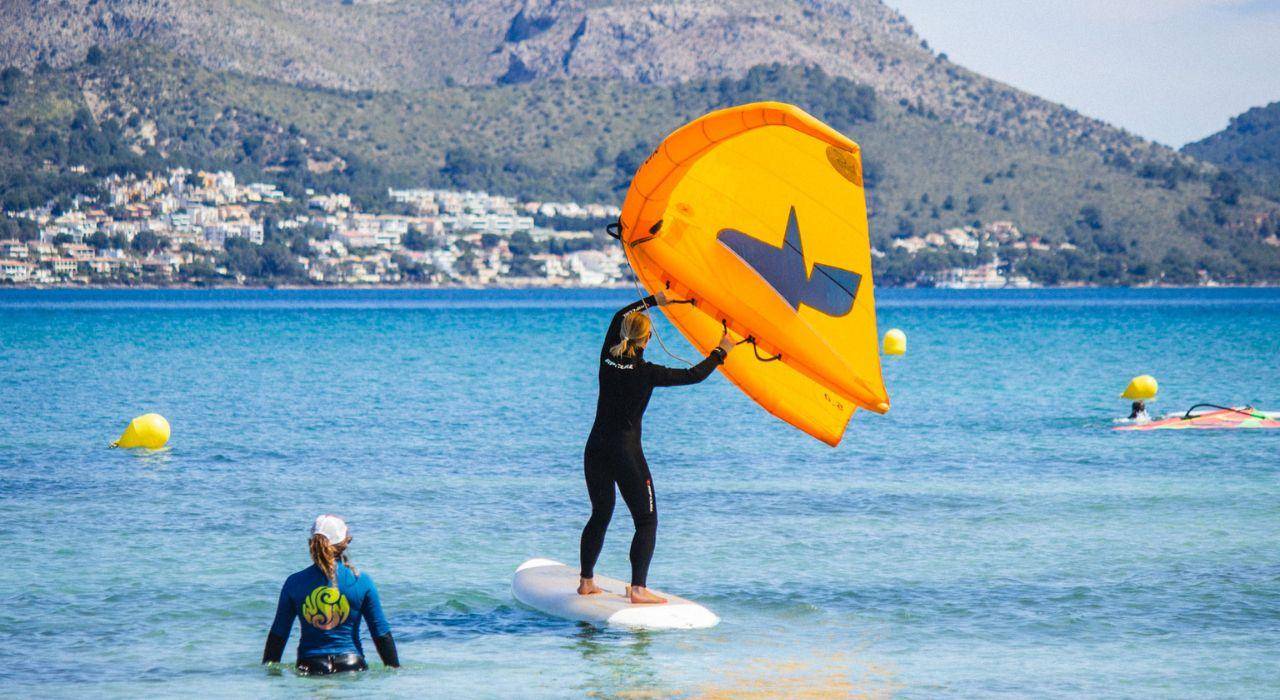 LEARN WING FOIL AT OUR WSM SCHOOL THIS SUMMER
Whether you already know how to kite or windsurf, or you are a complete beginner in the world of water sports, at our school you can learn to enjoy the sea by wing foiling. We offer different levels of private lessons where, from the very first session, you will come into contact with the endless spectacular sensations that this discipline provides.
In addition, we will provide you with the necessary equipment for you, according to your level of experience and your type of body. We work with materials from the best brands on the market, which provide quality and safety for your learning.
Visit our online Wing Foil section and book your lesson. Our instructors are waiting for you to unveil the fascinating world of a sport that electrifies your body and makes you feel all the potential you can get out of water and air.
You will never again see nature as distant, inaccessible and inert as you thought of it before you learned to fly over the sea!
REFERENCES CONSULTED
Mackelden, B. (2021). Wing Foil: La guía para los principiantes. Recuperado de https://bit.ly/3PYYcWd
Nautica News Today (2022).  Comienza el circuito nacional de wing foil race. Recuperado de https://bit.ly/3Nnjc7s
Solo queremos viajar (2020). Saltos espectaculares, velocidad… Wing Foil, el deporte náutico de moda. Recuperando https://bit.ly/2TZ5C3w
Wing foil online (s/f). ¿Wing foil qué es? Recuperado de https://bit.ly/3Ml90Lo