[click_to_tweet tweet="Kitesurfing and Windsurfing: Sports for the same wind" quote="Kitesurfing and Windsurfing: Sports for the same wind" theme="style2″]
If there are two water sports that attract a multitude of fans all over the world, it is Kitesurfing and Windsurfing. The possibilities they offer are manifold: fun, frenzy, physical activity and mental strengthening, among others. Learn more about these disciplines that we practice so much in our school.
WHY ARE KITESURFING AND WINDSURFING SO POPULAR?
Did you know that Kitesurfing and Windsurfing are two of the most adrenaline-pumping water sports you can experience? Not only that. They stimulate body and mind.
The fact is that the ability to concentrate, good physical performance and a large dose of balance are essential to be able to ride the waves on a board and other equipment. That is why these water sports disciplines are so complete.
Kitesurfing and windsurfing have more and more followers who live every minute immersed in a frenetic movement that awakens the passion of those who practice them and those who admire them.
In fact, at Water Sports Mallorca we are passionate specialists in both disciplines. That's why in our catalogue of classes you can find a wide variety of courses: both beginners and advanced; for both adults and children.
Join our school, choose one of them, and in a short time you will feel like an expert in moving through the waves and the wind with agility!
But, in case you need a little more information about what kitesurfing and windsurfing really are, we'll tell you their main features. As well as the differences between the two.
TWO AMAZING WATER SPORTS DISCIPLINES
We are going to give you the characteristics of Kitesurfing and Windsurfing: two amazing sports that are constantly attracting sportsmen and women who love practising sport in the sea.
Undoubtedly, they have points in common that make them a unique experience. Both derive from surfing, although the impulse in Kitesurfing and Windsurfing is not generated by the wave itself.
Kitesurfing: this discipline emerged in 1977, although our ancestors, Chinese or Indonesian, already used kites to drag their boats.
It is considered a risky sport, because it involves doses of strength, endurance and coordination. It is a good combination of surfing and paragliding. The athlete glides across a traction kite, which he controls on four or five lines. Two are fixed to the bar and others pass through the centre of the bar. All of them are attached to the body like a harness.
Windsurfing: this is practised with a light, easy-to-handle sail. If you are an experienced windsurfer, you can enjoy turns and jumps on the board over the waves. A real spectacle that impresses those who watch it. It demands effort and many hours of practice from those who do it.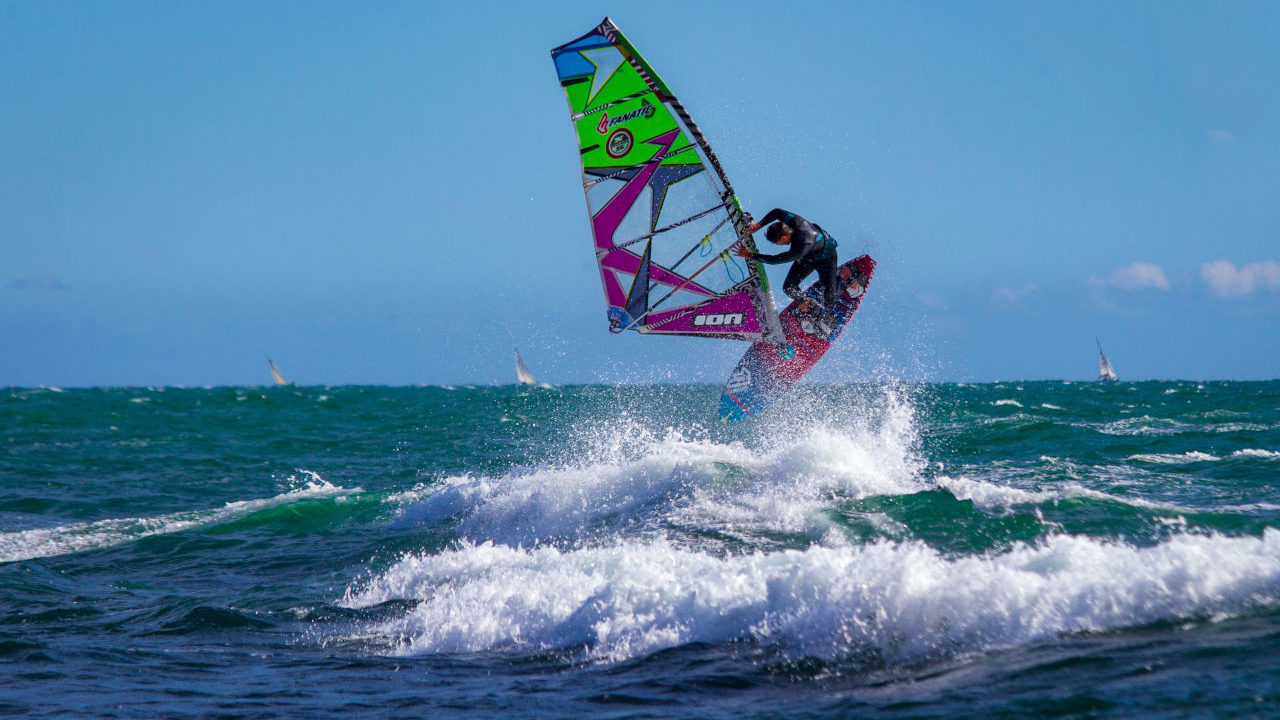 WHAT DO WE NEED IN KITESURFING AND WINDSURFING?
First of all, as you know, we cannot do without the wind. Aeolus is the Greek god of this atmospheric condition. If he does not come to our beaches, it is impossible to practice kitesurfing and windsurfing. He is in charge of propelling the boards to practice these demanding sports.
[su_highlightIt is not recommended to kite in onshore wind (off-shore)[/su_highlight]. This is because in the event of a problem, the kite will not be able to return to shore. The ideal condition is wind from the direction of the sea: on shore. Also parallel to the shore: side shore. A good wind strength is 14 to 21 knots.
In windsurfing the ideal wind strength is 30 to 40 knots. It is important, at the beginning, to avoid off-shore winds.
As we have just defined, these are two water sport experiences with elements in common. But, at the same time, they are very different. They have different techniques and sensations of their own.
A board similar to a surfboard is the common point. Let's see what are the specific elements for each one.
Windsurfing requires a sail, mast, mast foot, boom, keel or fin, collapsible daggerboard, harness, straps, adapter and halyard.
Kitesurfing consists of a kite, steering bar, 4 or 5 lines (lines attached to the kite), harness, safety line from the harness to the bar, safety leash, inflator.
ATHLETE PROFILE AND TYPES
The athlete must know what physical and mental capacity is required. There is no age for any of them.. 9 to 65 years old people can enjoy the waves on the beaches.
Windsurfing requires a surfer with a minimum physical background. Willpower and perseverance will be above average. The reason: it is a very slow and hard sport to learn. Mental strength is indispensable to ride the waves and feel free. Technique is essential to handle the sail, halyard and boom.
These are some of the types of competition in windsurfing:
Wave: jumping and surfing waves; Freestyle: fast manoeuvres with rotations, jumps and slides; Slalom: racing around buoys; Regattas: races similar to sailing boats; Indoor: indoor windsurfing; Super X: combination of Slalom, Regattas and Freestyle.
Kitesurfing is learned faster. Perhaps 15 hours may be enough, according to the experts. This minimal preparation allows a majority of kitesurfers to be self-sufficient.
Kitesurfing has several disciplines:
Freestyle: jumps and manoeuvres, Race: races between buoys, Surfkite: wave surfing.
BEST PLACES TO PRACTICE KITESURFING and windsurfing IN SPAIN
Where can we practice kitesurfing and windsurfing? Here we inform you about some of the best places to get on a board.
Tarifa (Cadiz) is the capital of wind and, therefore, of these sports. It is the mecca of windsurfing and kitesurfing thanks to its seas. The east and west seas are two paradises for windsurfing and kitesurfing. In Tarifa, sailing and kitesurfing are a matter of taste and knots.
The beaches of Bolonia and Balneario are the most beautiful, but with risk. Bolonia is the best for sailing in the east, characterised by huge dunes. Balneario is for experts: a strong levante comes in and blows offshore.
Alcudia Bay, where our school is located, also stands out as an ideal beach area for the practice of both sports. This is due to the presence of the Embat, a constant wind, of moderate strength, without gusts, which allows the safe practice of these sports.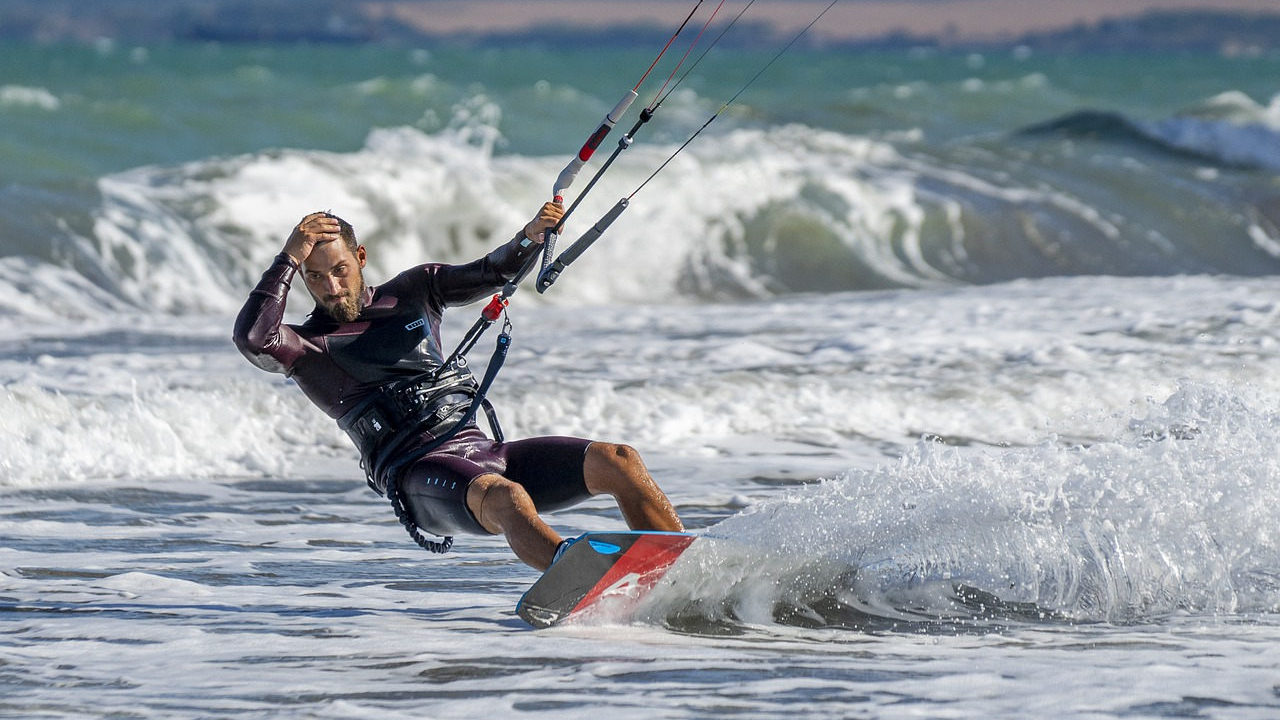 Specific places for kytesurfers:
Fuerteventura is one of the best destinations in the world to enjoy the wind. Every year the Kite World Tour championship is held there. Most kitesurfers choose the beaches in the south of the island. The beach of Sotavento (Jandía) has a higher average wind speed.
In Murcia, La Manga del Mar Menor stands out. It known for its shallow waters and shallow waves. It is the best place to learn without risk. The best beaches: Los Narejos, Los Nietos and Isla Ciervo.
The Valencian Community is a good place for kitesurfing. In summer the thermal winds are sailed in a south-easterly direction, with oscillations between 8-20 knots. In the Alicante area the beaches of Oliva, home of the Spanish Kitesurfing Championships, stand out. In Valencia is the Mareny Blau, one of the few unspoilt beaches in Valencia. It is therefore a very popular area for riders.
In Tarragona we find the natural park of the Ebro Delta. Here you can sail all year round. In summer there are thermals of 15 knots; in autumn-winter there are winds of 40 knots from the north on some days.
Specific places or windsurfing:
The aforementioned beaches of Tarifa, Fuerteventura and Murcia are also ideal for windsurfing.
The beach of Los Genoveses (Almeria) is the best after Tarifa.
Galicia is also a windsurfers' paradise. A Lanzada (Pontevedra) in O Grove has ideal conditions for windsurfing.
Laidatxu beach in Mundaka (Basque Country) is considered one of the 10 best beaches in the world for windsurfing.
CONCLUSIoN
Any season of the year is suitable for kitesurfers and windsurfers to show their skills. The blue of the sea is the background of a chromatic mosaic. Sails and kites are a real spectacle.
They are marvellous sports that test physical and mental performance. Balance and skills. Vitality, passion and charisma: essential ingredients for these great sportsmen and sportswomen. Immense, unspoilt beaches where the wind blows are paradises for kitesurfing and windsurfing.
But, like everything else in life, it is necessary to learn how to master both disciplines. That's why we have water sports schools like Water Sports Mallorca: to teach you how to get the most out of the wind and waves. After a few lessons with our instructors, you'll feel like you've surpassed your own limits and put the sea at your feet and the wind blowing in your favour. Isn't that simply fascinating?
REFERENCes consulted