In order to fully enjoy kitesurfing you need to know the ideal wind conditions. We will share with you some tips on what wind is necessary for kitesurfing and how to use it as an ally for your progress in this sport.
THE IMPORTANCE OF WIND FOR THE PRACTICE OF KITESURFING
If in a previous post we mentioned the importance of knowing how to read the wave forecasts, today it's time to talk about the wind conditions. Knowing the strength of the wind is fundamental, together with the swell and the kitesurfing equipment, to enjoy a satisfactory and safe session. So today we will see what is the necessary wind for kitesurfing.
Indeed, kitesurfing is a sport whose real driving force is the wind. Therefore, to fully enjoy your experience, you need to know how to combine balance on the water with precise wind management. And, specifically, the most appropriate wind for us, according to our abilities.
In our case, our kitesurfing school is located on the fabulous beach of Muro, in Alcudia Bay, where the Embat is a permanent presence. This moderate thermal wind blows daily along our beach, between April and October, and that gives us some great water sports sessions.
This daytime sea breeze, which makes our Mallorcan summer so pleasant, can vary between 10 and 15 knots, depending on the time of day. That's why L'embat is a wind for all types of kiteboarders, whether beginners or advanced.
However, regardless of whether you take kitesurfing lessons or want to start out on your own, you must have some essential knowledge of the ideal wind conditions. And that's what we're going to explain!
THE NECESSARY WIND FOR KITESURFING WHEN YOU ARE A BEGINNER
Especially when we are beginners, it is necessary to know how to take advantage of the wind to practice kitesurfing. In this sense, when we are starting to take lessons in this sport, we do it with winds between 6 and 12 knots of force.
This is the ideal weather condition to begin to enter the exciting world of kitesurfing and learn to master the technique. The reason for this is that the stronger the wind, the more difficult it will be to handle your kitesurfing equipment. Realize that you must learn to manage the kite and the control bar of the kite while maintaining stability.
Undoubtedly, as long as we do not have enough stability and strength to move freely in the water, we must opt for light winds. The first thing to do is to acquire the necessary technical knowledge, to handle the kite and the board that make up our kitesurfing equipment with precision. And as we gain experience and learning, we dare to sail the sea in stronger winds.
On the other hand, it is worth mentioning the importance of the wind direction where you practice. We should always sail with on shore winds -from sea to land- on our back, as is the case of l'Embat. This type of wind will bring you back to shore relatively easily in the event of an incident.
Likewise, if you are a beginner, we do not advise you to dive too deep and go too far from the shore. This way you will avoid any scares in the event of an unwanted incident. Another aspect to avoid is kitesurfing with off shore wind -from land to sea- for obvious reasons: it can be very dangerous when pushing you out to sea.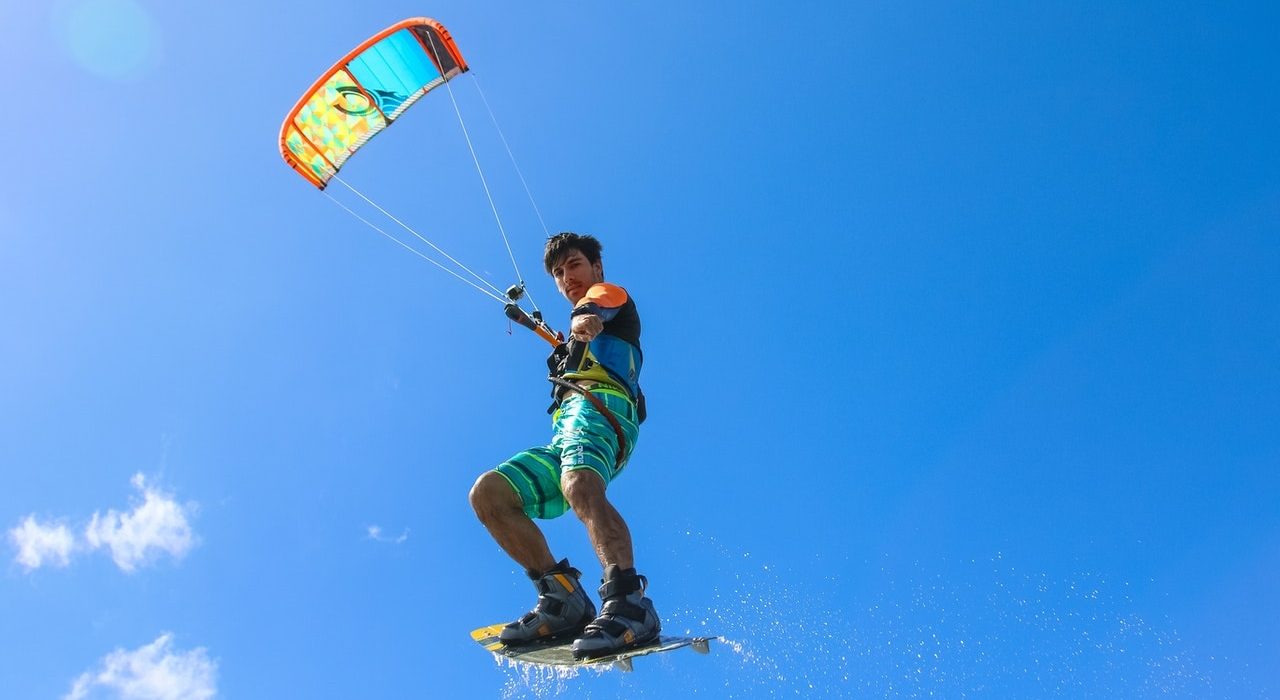 THE NECESSARY WINDS FOR KITESURFING AT ADVANCED LEVELS
On the other hand, when we become more skilled kitesurfers, we can start to face higher winds, between 12 and 15 knots. However, it is important to use a kite that is suitable for our size and weight, in order to get the most out of the wind.
In this context, it is important to gradually increase the intensity of the winds you are riding in. It is not at all advisable to go from light winds to strong winds -over 15 knots- without first experimenting with moderate currents.
First and foremost, we must gain confidence and security in the handling of the kite. The idea is that it is you who controls the kite and not the other way round: that the kite drags you and makes you lose your balance. This can lead to various types of damage: to the material, to yourself or even to people around you.
In short, we have to learn little by little how to kitesurf between waves, but don't worry! Our instructors at Water Sports Mallorca will guide you through the process and teach you how to make the most of the most favourable Embat wind hours in Alcúdia Bay.
IN ADDITION TO THE WIND NECESSARY FOR KITESURFING, THE EQUIPMENT ALSO COUNTS
Each wind requires a particular kitesurfing equipment, especially regarding the type of kite and board.
So, if your contact with the world of kitesurfing is recent or scarce, you should use a medium kite with shorter lines. When you have mastered the basics of the sport, you can use a larger kite with wider lines. In more advanced stages, you can opt for smaller kites, which are more complex to manage.
On the other hand, there are also different types of boards for kitesurfers, depending on their level of riding. Generally speaking, for beginners or sailing in light winds, large, light boards with good flex are the most recommendable. While for more experienced kitesurfers, sailing in stronger winds or practising freestyle, rigid boards are a fantastic option.
In our school we have equipment available for rent, either everything or just the board; by the day, by the hour or with a weekly voucher. With the best materials and brands on the market to practice safely and properly your passion for this sport of wind and waves.
In fact, we are official distributors of Flysurfer kites and boards in the Balearic Islands. With kites of different sizes and the full range of bars suitable for any age or weight, and to face any wind conditions necessary to practice kitesurfing!
We also have a wide range of Flysurfer boards so you can use the one that best suits your needs. We also offer you the Axxis kitesurf boards, with and without footstraps, so you can kitesurf strapless.
COME AND KITESURF WITH US!
Therefore, depending on the progress of your learning, you will increase the intensity of the wind with which you practice. You will also adapt the kitesurfing equipment to your skills.
As you can see, at our kitesurfing school we have everything you need to have fun and improve your mastery of this addictive and exciting sport.
We offer you the most knowledgeable and experienced instructors specialised in kitesurfing. We rent you the kitesurfing equipment you need. We teach you how to make the most of l'Embat, a fabulous wind for lovers of sailing and kite sports. And if that wasn't enough, we invite you to one of the best beaches in the world where you will almost always find summer days when the wind blows without gusts. What more could you ask for?
However, you will find much more detailed information about our lessons and equipment hire on our website. Visit the Kitersurf section and let yourself be seduced by the wonderful experiences of pure adrenaline that this water sport brings you.
REFERENCES CONSULTED